I don't know about you guyz, but I grew up on quiche. Living in the south, quiche wasn't just a meal, it was a religion. Birthdays, showers, holidays…. all quiche everything. It wasn't until I graduated with a degree in nutritional sciences that I realized that quiche is NOT THAT GOOD FOR YOU. Damn it. I hated to see the demise of this wonderful food in my life just because of it's insanely high fat and calorie content, so I had to act fast. Cue my sweet potato crust quiche! No more high calorie pie crust filled with artery clogging butter and blood sugar spiking white flour. Hello low calorie, high fiber, gluten-free sweet potato crust that also happens to be super easy to make.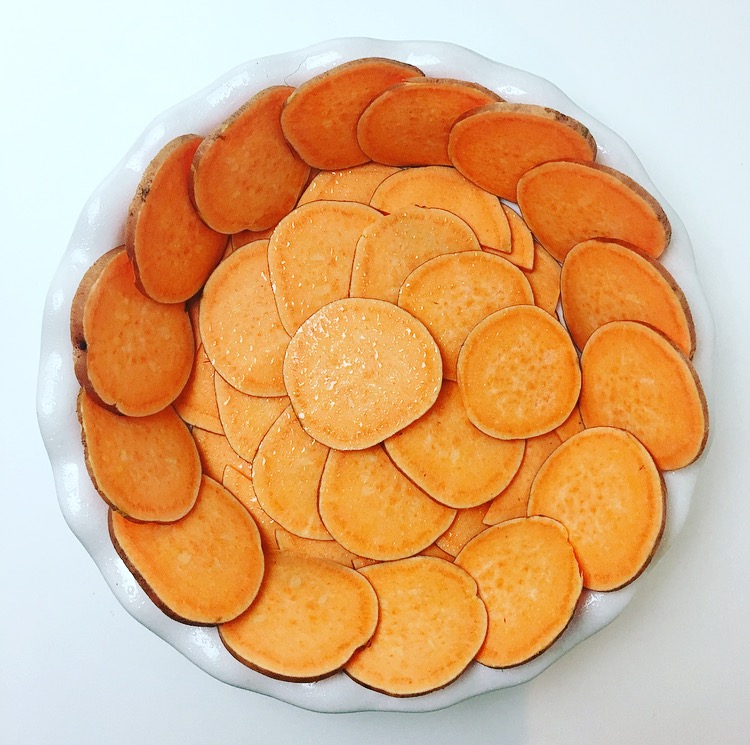 Now that we've talked a lot about quiche crust, let's talk about the filling. Oh, the filling. Using a mix of whole eggs and egg whites, I was able to significantly cut fat and calories in this dish. The big kicker was using my own homemade lean sausage in place of the high fat, high nitrate sausage that is typically used. This homemade sausage recipe is SO easy, I will legit never buy the store bought stuff again (I have also used this recipe to make sausage patties, and those are bomb as well).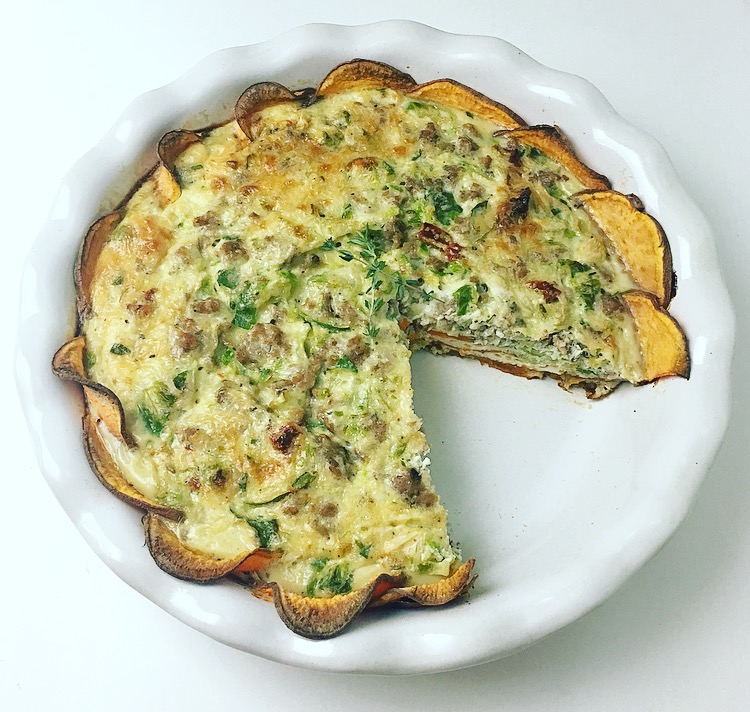 And the icing on the cake for this recipe is that it is packed with nutrient/fiber dense veggies versus the high calorie cheeses you would typically find. I used Brussels sprouts and sun-dried tomatoes, but you could really throw in whatever your little heart desired! Broccoli, asparagus, squash, mushrooms… the possibilities are endless.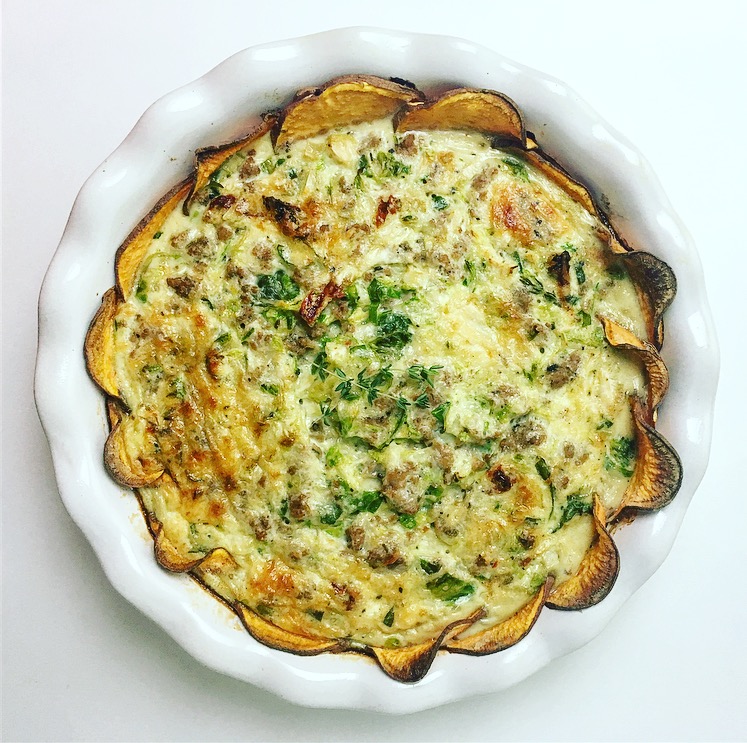 So go on… give it a try. Promise you'll never go back to the old boring quiche we were once so accustomed to.
Sweet Potato Crust Quiche
Servings: makes 2 quiches of 6 slices each
Ingredients:
2 sweet potatoes, thinly sliced into rounds
1 pound lean turkey
1 teaspoon salt
1 teaspoon fennel
2 teaspoons dried sage
1/4 teaspoon dried marjoram
1/4 teaspoon cayenne pepper
1 teaspoon ground black pepper
2 cups egg whites
4 whole eggs
1 cup unsweetened almond milk
1 cup shredded Brussels sprouts
1/4 cup sun dried tomatoes
Directions:
Preheat oven to 400 F.
Grease 2 pie dishes. Line bottom and sides with sweet potato. Lightly spray with cooking oil. Bake for 15 minutes.
While crust is baking, mix together turkey, salt, fennel, sage, marjoram, cayenne, and black pepper in a large bowl using your hands to blend well.
Heat a skillet over medium-high heat and coat with nonstick cooking spray. Place turkey blend in the skillet and brown until no longer pink in the center, breaking apart into crumbles. This should take about 15 minutes.
In a clean large bowl, mix together egg whites, eggs, almond milk, Brussels sprouts, and tomatoes. Stir turkey into mixture once cooked.
Remove crusts from the oven and pour an even amount of egg/turkey mixture over each crust.
Decrease oven heat to 375 F and cook both quiches for 30 additional minutes or until no longer runny and lightly browned on top.