If the word "pumpkin" is before a food, I'm already obsessed. Yes, I fully realize this immediately throws me into the "basic" category when it comes to females. And I'm ok with that. I thought I had pretty much tried it all: lattes, ravioli, pancakes, pies, even hummus…. Until I found these babies. Pumpkin FRIES. Two of some of my favorite foods combined. French fries and pumpkins. What's even better about these fries is that:
a) They're baked. So no guilt needed.
b) They're PUMPKIN. Duh.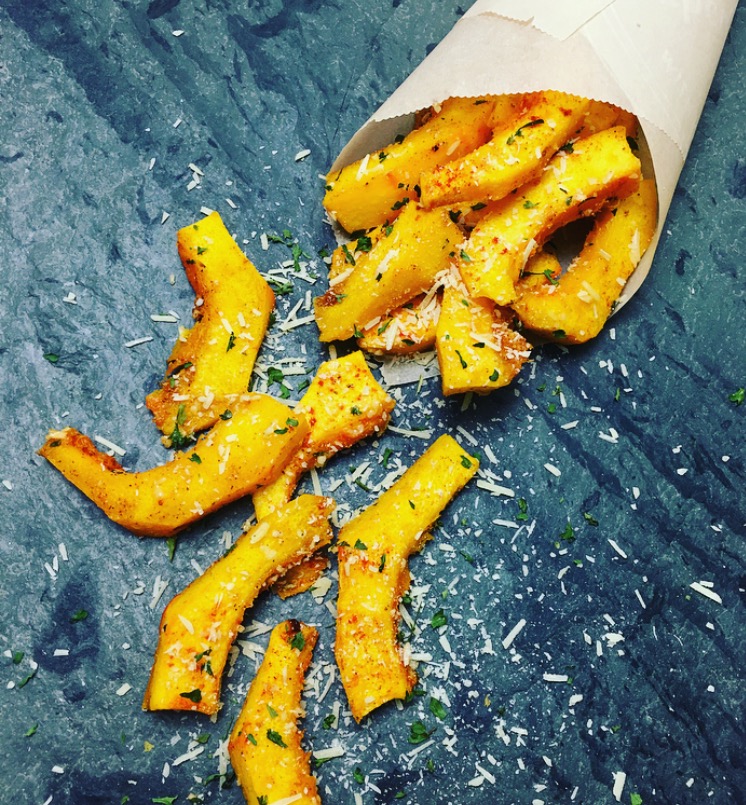 Not only are these incredibly tasty, but you're getting a huge shot of fiber and vitamin A in each bite. You know this old blind lady needs her vitamin A to keep her from wearing bifocals before the age of 40. And did I mention they're low on calories?
I will admit that I was dreading slicing this guy up, but I promise it wasn't that bad. And save the seeds- you can roast them later and you know there's nothing better than pumpkin seeds with a little sea salt.
The secret to making fries that aren't soggy is to soak the sliced pumpkin for at least 30 minutes before baking. This helps to break down the starch in the pumpkin (this also works for potatoes, sweet potatoes, etc) which helps stiffen them up a bit. If you've got the time, soaking them overnight is even better!
I found this recipe on www.wholefully.com and slightly adapted to my liking/health preferences.
Baked Parmesan Pumpkin Fries
Servings: 4
Ingredients:
· 1 small pumpkin
· 2 teaspoons olive oil
· 1 teaspoon paprika
· 1 teaspoon garlic powder
· 3 tablespoons grated Parmesan cheese
· 2 teaspoons dried parsley
· ½ teaspoon sea salt
Directions:
1. Using a sharp knife, slice the pumpkin in half. Scoop out the seeds and pulp.
2. Slice the two ends off of each half of pumpkin. Then slice each half in half again. Using a sharp vegetable peeler, peel the pumpkin pieces. Then slice the peeled pieces into ¼" fries.
3. Place the pumpkin fries in a large bowl and cover with cold water. Let the fries soak for at least 30 minutes, but preferably overnight.
4. When fries are finished soaking, preheat the oven to 425°. Line two or more baking sheets with parchment paper. Set aside.
5. Drain the fries, and then pat dry with paper towels.
6. Place the fries in a large bowl, drizzle with the olive oil and then toss to coat with your hands. Sprinkle on the paprika and garlic powder and toss again until well-coated. Spread fries in a single layer on the prepared baking sheets.
7. Bake in preheated oven for 10-15 minutes, flipping once halfway through, until the fries are crisp and golden brown.
8. While the fries are baking, toss together the cheese, parsley, and sea salt. As soon as the fries come out of the oven, sprinkle on the Parmesan mixture.