I love meat as much as the next guy (hello- I'm from Texas. Meat and potatoes por favor!), but a good vegan or vegetarian meal feels great every once in a while. In fact, I encourage my clients to heat "meatless" 1-2 times a week to help keep blood cholesterol levels down (most of the cholesterol raising saturated fat found in our diets comes from animal products). The key when going meatless is to make sure you're still including a protein source. In the case of this dish, I included 3 protein sources: baked tofu, chickpeas, and roasted broad beans.
Let me just say something about these roasted broad beans. I AM OBSESSED. It's not often I come across a product that is tasty, healthy, and convenient. Did I mention that they are tasty? I can't put these suckers down! Only 100 calories per serving, which makes them very guilt free and, with a similar taste and texture of nuts, half the calories of nuts. Check 'em out. I'm not even getting paid by them (hello Enlightened… feel free to pay me) and I still want to tell the world about them haha! Get your own here and use code laurott20 to get 20% off!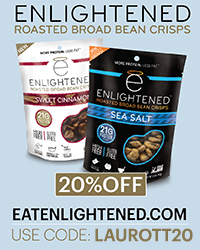 I have been craving this bowl ever since I made it. This bowl is living proof that cooking healthy DOESN'T have to take a lot of time. I used pre-roasted tofu from Trader Joe's, pre-chopped vegetables from Safeway, pre-shredded coleslaw mix, canned chickpeas, and pre-packaged/seasoned broad beans. Hello health and taste, goodbye hours spent slaving in the kitchen!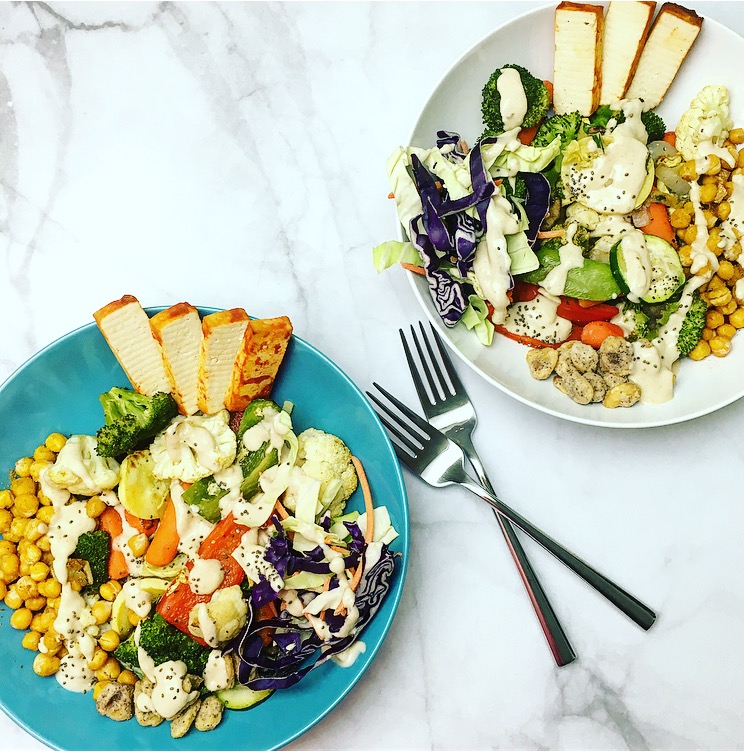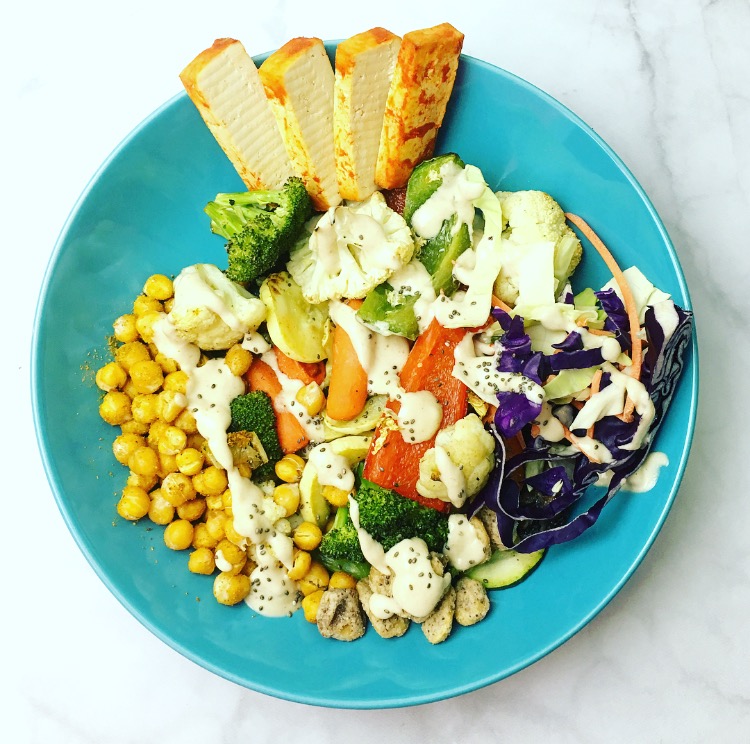 Tahini Buddha Bowl
Servings: 4
Bowl:
1, 16 ounce can chickpeas, drained, rinsed, patted dry
1 teaspoon curry powder
4 cups chopped mixed veggies of choice (I used pre-chopped zucchini, carrots, bell peppers, broccoli, onions, and cauliflower)
~2 teaspoons olive oil
Salt and pepper to taste
7 ounces baked tofu (I used Trader Joe's Sriracha baked tofu)
1, 3.5 ounce bag Enlightened Roasted Broad Beans (I used wasabi flavor)
1 cup chopped mixed cabbage (I used a fresh coleslaw mix)
Chia or sesame seeds to add crunch
Dressing:
1/4 cup tahini
3 Tablespoons fresh lemon juice (about 1 medium lemon)
2-4 Tablespoons water
Directions:
Preheat oven to 400.
Toss chickpeas with curry powder, salt, and pepper.
On a large greased baking sheet, place seasoned chickpeas and veggies. Spray with olive oil and season with salt and pepper. Roast in pre-heated oven for 15-20 minutes or until vegetables begin to brown.
While vegetables are roasting, mix dressing ingredients together and whisk until thick and blended evenly. Add water until a pour-able sauce is formed.
Heat tofu either in a skillet or microwave.
Remove vegetables and chickpeas from oven. Arrange in 4 large bowls, evenly dividing chickpeas. Top with tofu, tahini sauce, broad beans, raw cabbage, and chia seeds.