There aren't many foods that I love more than pumpkin. Yes, I realize this makes me very "basic" as a girl, but I don't care. Pumpkin is the healthiest, most versatile food I know. Actually, pumpkin is the mullet of foods. Ok so maybe mullets aren't versatile, but hear me out.
Mullets= business in the front, party in the back.
Pumpkin= healthy in the front, makes any dish a party in the back.
Maybe that's a stretch of a comparison, but it sounded good to me. Add pumpkin to ANY dish and it suddenly becomes way more exciting. Ravioli? Kinda cool. Pumpkin Ravioli? Fu**king awesome. Lattes? Sure, I'll take one. Pumpkin Spice Lattes? I'll murder you if you don't give me one. Chili? Yum. Pumpkin Chili? MY WORLD IS ROCKED. You get the point.
So I'm sure you can imagine my pleasure when I came up with these healthy pumpkin donut holes. I'll be the first to admit that these took a couple of tries at recipes to get it right, but once I perfected it… your mouth will thank me. And the best part is that they're whole grain, low fat, AND low sugar. You're welcome, you're welcome.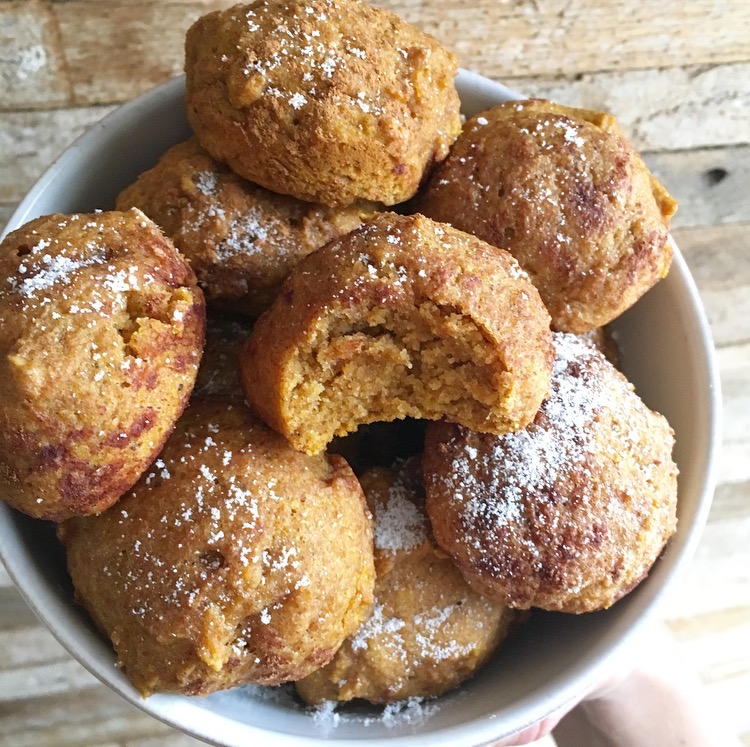 Healthy Pumpkin Donut Holes
Ingredients:
1 ¾ cups whole wheat flour
2 teaspoons baking powder
½ teaspoon salt
¾ teaspoon cinnamon
½ teaspoon ginger
¼ teaspoon nutmeg
1/3 cup canola oil
1/3 cup brown sugar
2 Tablespoons sugar substitute (I used Splenda)
1 egg
1 teaspoon vanilla extract
¾ cup canned pumpkin
½ cup skim milk
Seasoning mix:
¼ cup sugar substitute
3 Tablespoons cinnamon
Directions:
1. Preheat oven to 350 F.
2. In a medium bowl, mix together flour, baking powder, salt, cinnamon, ginger, and nutmeg.
3. In a large bowl, mix together oil, brown sugar, sugar substitute, egg, vanilla, pumpkin, and milk.
4. Add dry ingredients into wet and mix until combined, being careful not to over mix.
5. In a small, shallow bowl, mix seasoning mix ingredients. Grease a baking sheet very well.
6. Form pumpkin mixture into balls. Roll each ball in seasoning mix and place onto baking sheet.
Tip: Rub hands in seasoning mix or flour before forming balls to keep mixture from sticking to hands.
7. Bake 10-12 minutes or until a toothpick comes out clean.
8. Best when eaten warm.