Breakfast is BY FAR my favorite meal of the day. Like most of us, my breakfast during the week is pretty simple and quick (oatmeal with peanut butter, duh). But on the weekends when I have more time… I'm spicin' that baby up! This morning I decided to add a little vegetation into my life for breakfast. Cue the Parmigiano Baked Eggs with Spinach. Gluten free, carb free, high fiber, high protein… does breakfast get any better than that? (Yes it does- oatmeal and peanut butter. Do I have an addiction?!).
Oh and what makes this recipe even better is that a recent study by the Journal of American College of Nutrition came out which states that 90% of Americans are not consuming enough choline. What's choline, you ask? Well it's essential for our brain health and MEMORY. Where did I put my keys again? And where do we get this magical choline? EGG YOLKS! BOOM! So bottom line- eat more whole eggs. See the article here to learn more about choline.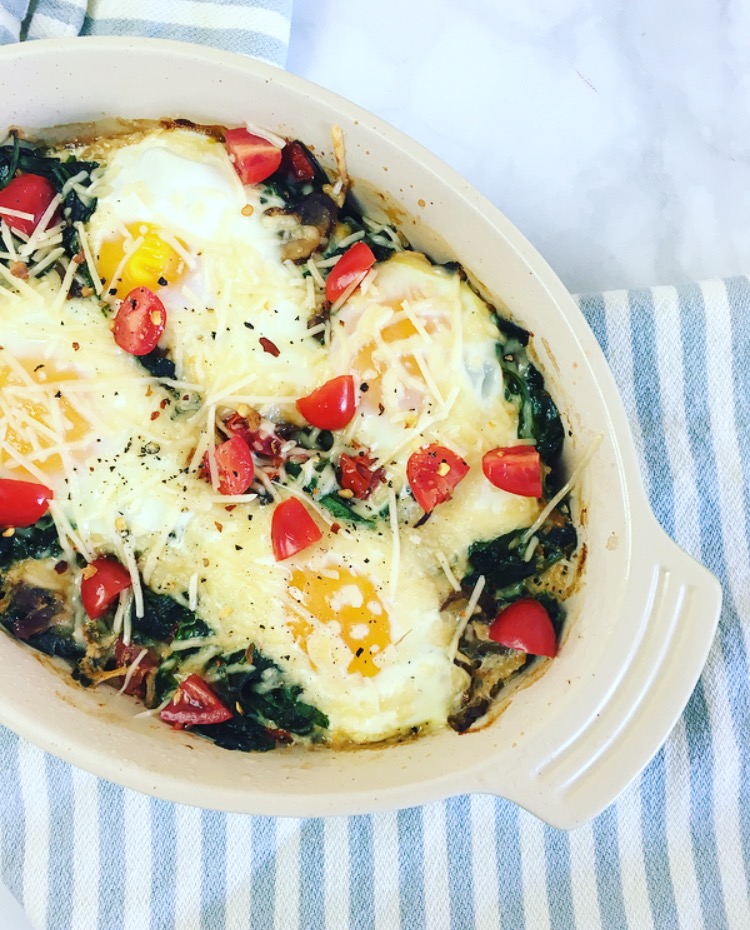 Parmigiano Baked Eggs with Spinach
Ingredients:
2 teaspoons olive oil, separated
2 large garlic cloves, minced
1, 6 oz bag baby spinach leaves
4 eggs
1/4 cup cherry tomatoes, chopped
1/4 cup Parmigiano cheese
Salt, pepper, and red pepper flakes to taste
Directions:
Preheat oven to 350.
In a large skillet, heat 1 teaspoon of olive oil on medium heat. Add in garlic cloves and cook until fragrant.
Add in spinach until wilted, about 2 minutes. Remove from heat.
Stir in 1/2 of the cheese and 1/2 of the tomatoes into the spinach mixture and season with salt and pepper.
Spray remaining teaspoon of oil to coat a large ramekin (or 2 small ramekins) and spoon spinach into the prepared ramekin.
Break eggs onto the spinach and sprinkle with remaining cheese. Season with salt, pepper, and red pepper flakes.
Bake until egg whites are set, about 15-20 minutes.
Top with remaining tomatoes.