It's finally winter in Denver, and that can only mean one thing- soup season. There is nothing I love more than snuggling up in front of my Netflix (ok yea, I don't always practice what I preach about mindful eating- moderation guys) with a hot bowl of soup and a gooey grilled cheese sandwich. The biggest issue is that, of course, my favorite soups are of the creamy, high calorie variety. So when I found this recipe on www.followtherules.com, I knew I had to try it. I adjusted a few things to my taste (control freak), but otherwise kept most of the recipe the same.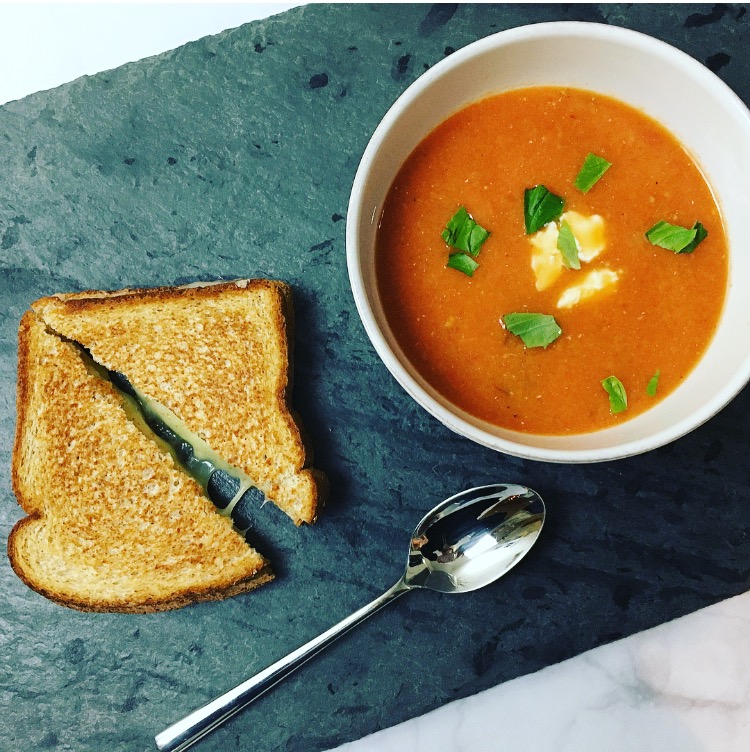 Typical creamy tomato soups are loaded with heavy cream, so I love that I was able to use Greek yogurt in this recipe to not only add that same creamy vibe, but also bump up the protein a bit. This recipe uses a mix of Roma and cherry tomatoes which I love because it adds a bit of variety in sweetness, but if you're feeling lazy you could definitely get away with all Roma.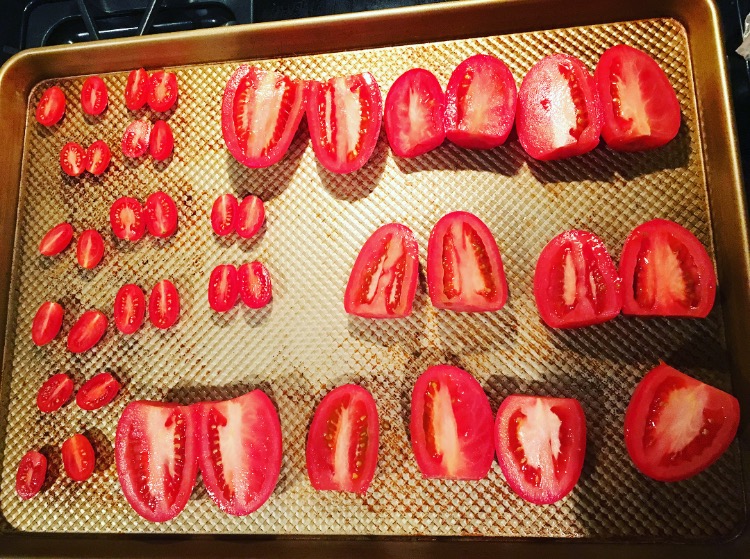 I obviously had to top this off with a grilled cheese sandwich. I used thin sliced whole wheat bread and sharp cheddar cheese, but you can really use whatever floats your boat! If you're not feelin' the cheese, a grilled panini of any kind would work. Or heck- just eat the soup and throw in some chicken for protein. SO WILD.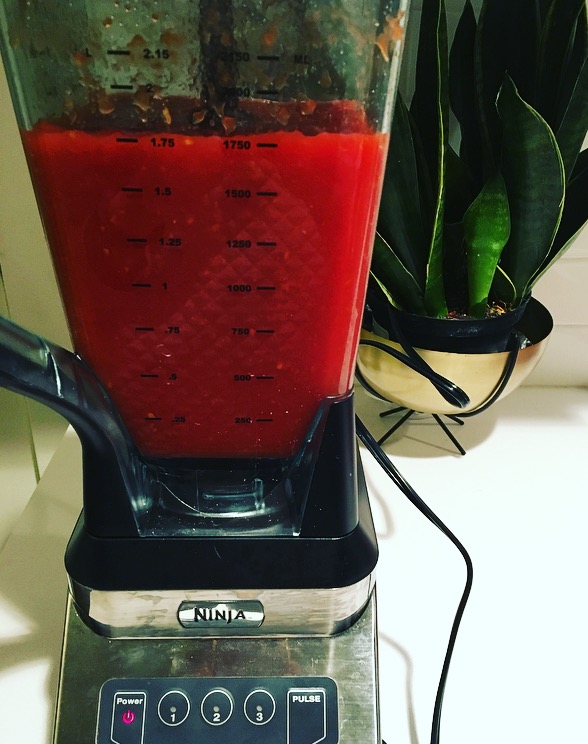 Healthy Creamy Tomato Basil Soup
Ingredients
6-8 Roma tomatoes (1 pound), halved
12 large cherry tomatoes (1/2 pound), halved
2 cloves of garlic
1 Tablespoon olive oil, divided
1 onion, sliced thinly
1 15 ounce can diced tomatoes, undrained
3 cups chicken stock
4 Tablespoons plain Greek yogurt
1/2 teaspoon paprika
1/4 teaspoon red pepper flakes
salt and pepper to taste
1 Tablespoon fresh basil, minced
Directions
Preheat oven to 350 degrees.
Arrange Roma and cherry tomatoes on a baking sheet. Spray with ~1 teaspoon olive oil (I keep my olive oil in a Misto spray bottle) and sprinkle with salt.
Place garlic cloves in the middle of a small square of tin foil. Drizzle with 1/2 teaspoon olive oil and wrap up tightly. Place in oven with tomatoes to roast for 30 minutes.
Meanwhile, in a large pot over medium heat, sauté onions in remaining olive oil until translucent and slightly caramelized, about 10 minutes.
Place diced tomatoes, roasted tomatoes, garlic, chicken stock, paprika, red pepper, and Greek yogurt into a large blender (can also add all to the pot and use an immersion blender). Blend together until smooth.
Add blended ingredients back to the pot and bring to a boil.
Season with salt and pepper to taste and stir in basil.
Serve with a grilled cheese sandwich (made on whole wheat bread of course).