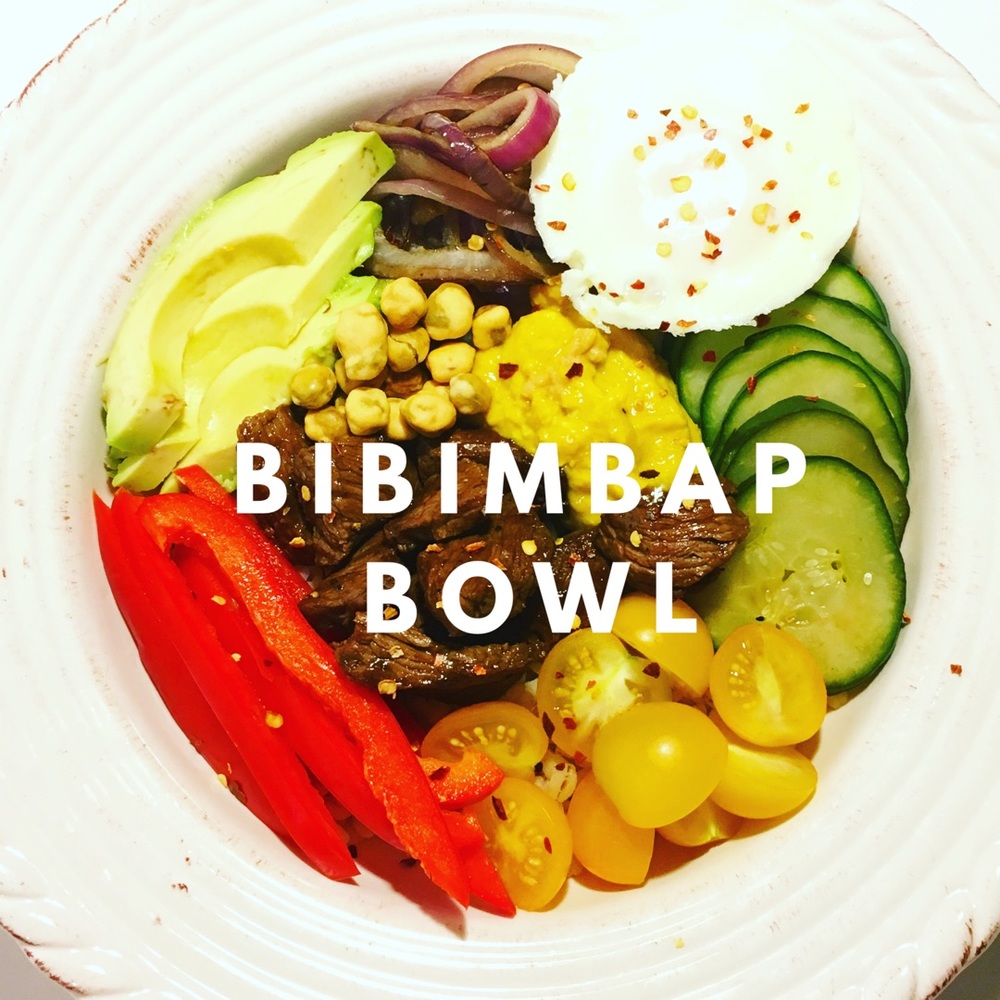 I don't know what it is, but if it's called a "bowl", I'm into it. And this "bowl" really hit the spot. Filled with protein, fiber, and healthy fats, this bowl was not only tasty, but filling too (and it takes a lot for this girl to feel full). Played around with a new grain too- whole grain barley! Barley is a whole grain (meaning it keeps your blood sugars more stable, and in turn keeps you full for longer), and is super quick and easy to cook. I bought the 10 minute kind.
One of my favorite meals is Bibimbap. Bibimbap is one of the most well known Korean dishes. It translates to "mixed rice with meat and assorted vegetables". Traditionally I have had it with beef, soft poached egg, pickled cucumbers, rice, and a spicy red sauce. This recipe is my RD take at a Bibimbap bowl. Hope you enjoy it as much as I did!
Bibimbap Bowl
Servings: 2
Ingredients:
6 ounce sirloin, chopped
2 Tablespoons low sodium soy sauce
1 Tablespoon Sriracha
1 cucumber, sliced
2 Tablespoons rice vinegar
1 teaspoon sugar
1/2 red onion, sliced
2 eggs
1 cup cooked whole-grain barley
1 red bell pepper, sliced
4 Tablespoons coconut curry hummus (I used Hope Hummus)
1 avocado, sliced
1/2 cup yellow cherry tomatoes
1/4 cup baked peas (I used World Peas- Sichuan flavor)
Directions:
In a medium bowl, marinate sirloin in soy sauce and Sriracha (should marinate about 20 minutes).
In a separate bowl, marinate cucumbers in rice vinegar and sugar (should marinate about 10 minutes).
In a large skillet, sauté onions over medium-high heat. Season with salt and pepper to taste. Remove from skillet.
Using the same skillet, sauté cucumbers over medium- high heat for 1-2 minutes.
While cucumbers are sautéing, cook meat in separate skillet on medium-high heat until pink in middle.
Poach eggs until desired "runniness".
Serve barley first (recipe makes 2 servings). Top with sautéed onions and cucumbers, raw bell pepper, avocado, hummus, eggs, raw tomatoes, and peas. Enjoy your Bibimbap bowl!!!