Chicken Tikka Masala… Chicken marinated in yogurt then doused in creamy tomato sauce and served over rice. No way that could be modified to be healthy, right?! Wrong! Check it out.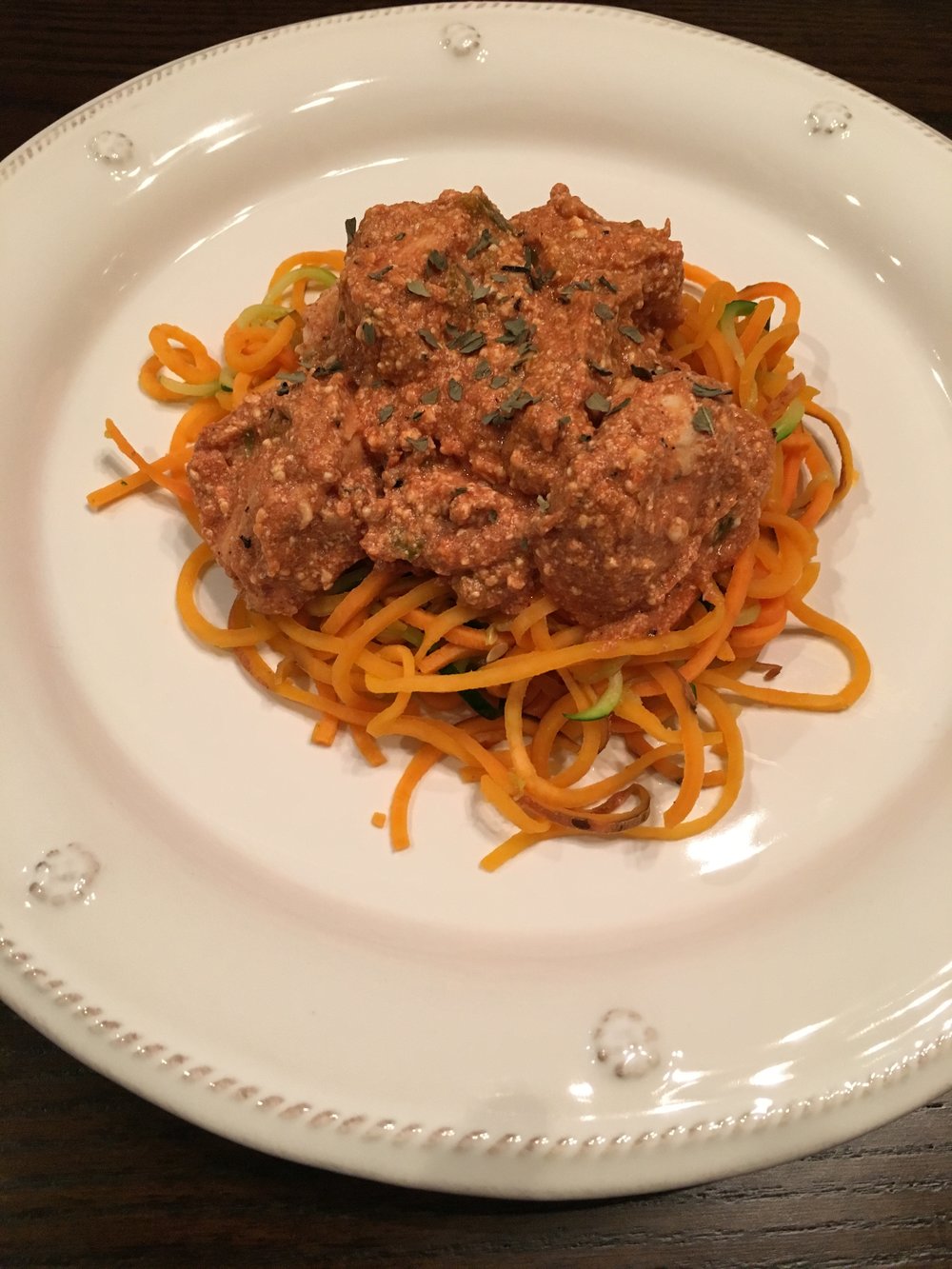 Healthy Chicken Tikka Masala

For the marinade:
1 Cup plain flavored Greek yogurt

1 Tbsp lemon juice

2 tsp cumin

1 tsp cinnamon

2 tsp cayenne pepper

2 tsp black pepper

1 Tbsp minced fresh ginger

4 tsp salt

3 lb chicken breast, cut into bite sized pieces
For the sauce:
1 jalapeno pepper, finely chopped

1 clove garlic, minced

2 tsp cumin

2 tsp paprika

3 tsp salt

8 oz can tomato sauce

1 Cup plain flavored Greek yogurt
For the "rice":
2 spiralized sweet potatoes (skin on)

2 spiralized zucchini
Directions:
1) In a large bowl, combine all marinade ingredients. Mix and refrigerate for 1 hour.
2) Preheat grill to high heat.
3) Thread chicken onto skewers. Discard marinade. Grill until juices run clear, about 5 min each side.
4) Sauté garlic and jalapeño for 1 min in skillet. Season with cumin, paprika, and salt. Stir in tomato sauce and yogurt. Simmer on low until sauce thickens, about 20 min.
5) While sauce is simmering, sauté spiralized veggies until soft.
6) Add chicken to sauce and simmer for 10 min.
7) Serve chicken and sauce mixture over "noodles".
8) Feel the Indian love tonight.