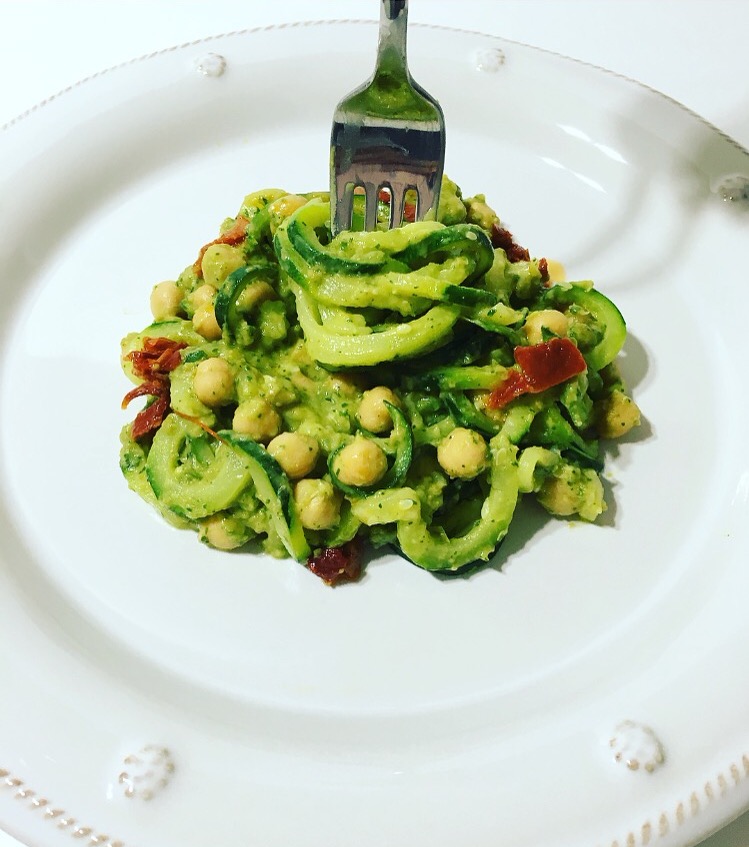 I love pesto, but between the pine nuts, Parmesan, and olive oil, it is NOT a low calorie dish (but everything in moderation, right?). So when I came across this recipe (actually it was a few different recipes that I morphed together), I was thrilled.
The avocado is packed with heart healthy and satiety provoking monounsaturated fats. Using zucchini in place of pasta lowers calories and carbs and adds vitamin A, vitamin C, folate, fiber, and potassium. Chickpeas act as a great vegetarian substitute for meat, while still packing a protein punch. Basil is an inti-inflammatory herb. Ok enough nutrition talk already, give me some avocado pesto zoodles!!!
Avocado Pesto Zoodles
Ingredients:
3 medium zucchini
1 avocado
1 cup canned peas (drained and rinsed)
2 cups fresh basil leaves
2 cloves garlic
Juice from 1 lemon
Salt to taste
1 can (16 oz) chickpeas
Sun-dried tomatoes to garnish
Optional: I threw in a little nutritional yeast for extra B12, but you do NOT need this
Directions:
Slice off top of bottom of the zucchini. Use spiralizer to make "zoodles" out of the remainder of the zucchini.
Combine avocado, peas, basil, garlic, lemon juice, and salt into food processor or high power blender. Process until smooth. Taste and adjust ingredients as needed.
Add zucchini noodles in a bowl and toss with pesto and chickpeas. Dish can be done using raw zoodles or cooked. If cooking, lightly steam on stove-top until desired crispiness.
Garnish with sun-dried tomatoes and enjoy this creamy dish!