You may not know this about me, but I'm not a salad girl. Like… at all. It's a rare occasion that I make salads at home or order them out. Which shocks a lot of people since everyone for some reason assumes that all dietitians eat must be salad. Well, not this dietitian! But there is the rare occasion that I find a salad that I just LOVE. And this was one of those occasions. If/when I do eat salads, I'm all about making my own dressings. That way, I am not only able to avoid added sugars and excess oils, but it's also fresh and tasty! This salad was no exception- I made my own FAB dressing in the blender with tons of fresh herbs.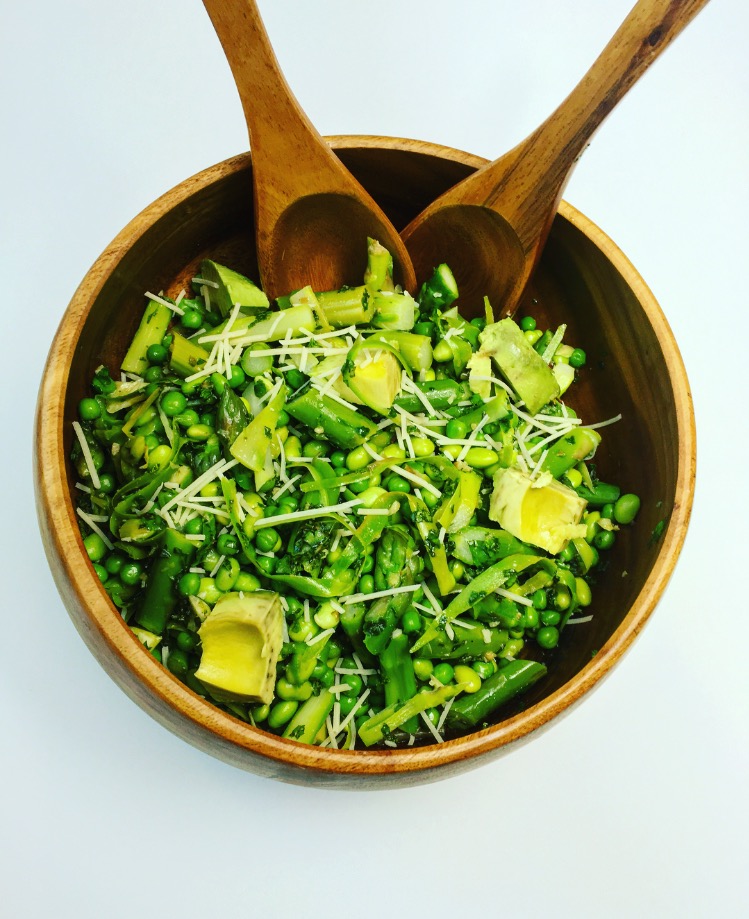 Using all green ingredients not only makes this salad easy on the eyes, but it's also packed full of flavor, antioxidants, and inti-inflammatories.
Power Greens Salad
Servings: 4
Ingredients:
2 1-lb bunches large asparagus spears
1 cup frozen shelled edamame, thawed
1 cup frozen English peas, thawed
1/2 cup extra-virgin olive oil
1/4 cup slivered almonds (can be toasted if you please)
2 cloves garlic
1 1/2 tsp lemon zest
1 cup loosely packed fresh basil leaves
1/2 cup loosely packed fresh mint leaves
1/4 cup loosely packed fresh tarragon leaves
2 Tbsp fresh lemon juice
2 oz shaved Manchego or Parmesan cheese
1/2 chopped avocado
1/2 tsp salt
Directions:
1) Bring 6 cups water to a boil in a large pot. Have a large bowl of ice water ready.
2) Take one bunch of asparagus and cut diagonally into 2 inch long pieces.
3) Take the other bunch of asparagus and shave using a vegetable peeler.
4) Add diagonally cut asparagus, edamame and peas to boiling water. Cook for 4 minutes then plunge vegetables into ice water to stop the cooking process. Drain well.
5) Process oil, almonds, garlic, and lemon zest in a blender until smooth. Add herbs and process until smooth.
6) Place dressing, shaved asparagus, cooked asparagus mixture, lemon juice, and 1/2 teaspoon salt in a bowl. Toss to coat. Top with cheese and asparagus.
I topped mine off with a little smoked salmon, but it's great by itself too! And because of the edamame, there is plenty of protein in here to not stress about adding anything!