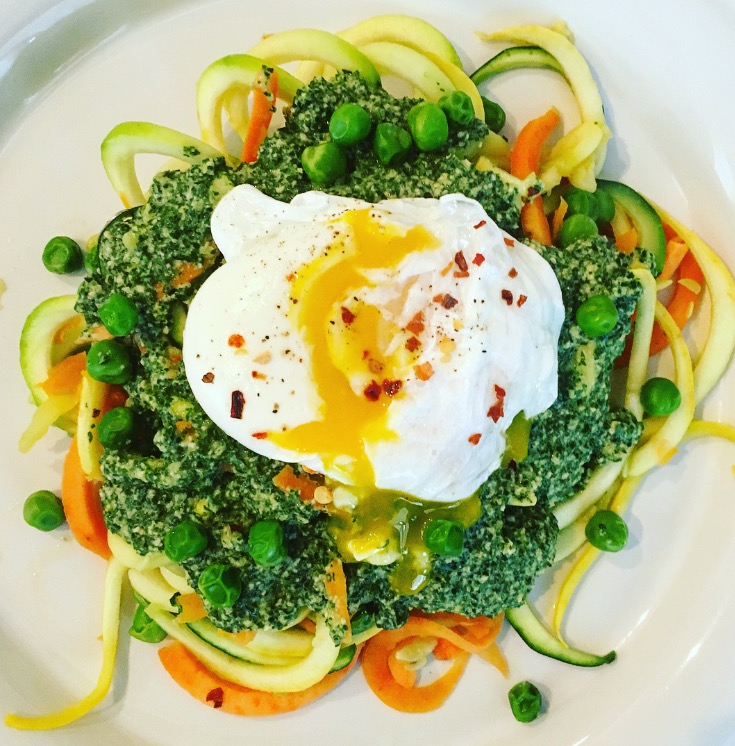 This recipe is creamy. And gluten free. And vegan (assuming you don't throw a big runny egg or chicken on top like I did haha). And, most importantly, it's DELICIOUS. Like lick the bowl good. I got this recipe from Inspiralized and made a few Lauren, RD tweaks to it. I love that she threw some green peas in for a little extra vegetable based protein punch. This is also a whole new take on kale than I had ever tried.
My husband and I traveled to Thailand for our honeymoon about 6 months ago, so we are both pretty obsessed with the Thai culture (including food, obviously). This dish has a great Thai flavor. Let's talk about ginger for a minute. This is a pretty magical spice. First- ginger has been shown to decrease nausea and upset stomach (including morning sickness). Second- ginger is anti-inflammatory, which can help with arthritis, heart disease, exercise soreness, Alzheimer's, etc. Third- some studies show that ginger can help with menstrual pain. I heard that! So basically, this recipe will cure your life. Try it out!
Creamy Ginger Coconut Kale Zucchini Spaghetti
Ingredients:
1/2 tablespoon extra virgin olive oil
3 garlic cloves, minced
2 1/2 tablespoons fresh ginger, peeled and minced
1 15 ounce can lite coconut milk
2 teaspoons lemon juice
red pepper flakes, to taste
kosher salt and freshly ground pepper, to taste
3 cups chopped kale
1/4 cup packed fresh basil
¼ cup raw cashews
2 medium zucchinis, Blade C, noodles trimmed
2 medium yellow squash, Blade C, noodles trimmed
1 medium sweet potato, peeled, Blade C, noodles trimmed
3/4 cup defrosted green peas
Instructions:
In a large pot over medium heat, add in the olive oil. Once heated, add the garlic and ginger and cook for 1-2 minutes or until fragrant.
Add in the coconut milk, lemon juice, red pepper flakes and season with salt and pepper. Stir to combine and then add in the kale. Cover and cook until the greens have wilted, about 5 minutes.
Transfer the kale mixture to a high-speed blender and add in the basil and cashews. Blend until smooth and creamy and set aside.
Wipe down the pot and place back over medium heat. Add in the zucchini, squash, potato noodles, and peas and toss for 3-4 minutes or until cooked to al dente or your preference. Once cooked, divide into bowls and top with green sauce. Serve immediately. I added a poached egg one night and avocado/chicken the next. Both were fab!