Sometimes I feel like a broken record, but MODERATION MODERATION MODERATION. And this was definitely a weekend of moderation. We celebrated my husband's 30th birthday, and in typical Marek (my maiden name) fashion, I had to make some sort of cake. This year, I decided to do cupcakes. And they were anything but healthy. And they were amazing. These suckers were not a walk in the park to make, but they were worth every minute. Not only are these the cutest little cupcakes I ever have seen, but they were melt in your mouth good. I'm talkin "can't put it down" good. Try for yourself. Guarantee you won't regret it. Oh and I stole this recipe from the fabulous http://www.confessionsofacookbookqueen.com. They sure were a big hit at the birthday party!
**Although I love to bake, I don't typically make anything "fancy." So these cupcakes were a stretch for me. Just a tip, USE A PASTRY BAG to ice. Ziplock baggies do not work (I'm telling you this from experience). That's why my icing looks the way it does (albeit tasting fab). They are not strong enough and will explode. Learn from my mistakes unless you want icing all over your kitchen and self.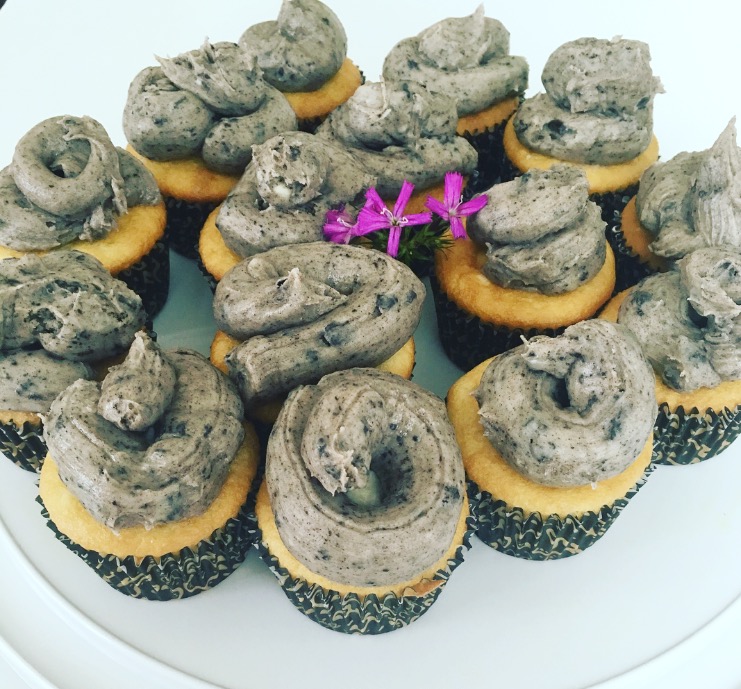 Cookies and Cream Cupcakes
Ingredients
Cupcakes:
1 box Duncan Hines White Cake Mix
1 stick of butter, melted
1 cup water
3 eggs
24 whole Oreos
Filling:
1 stick salted butter, slightly softened
1/4 cup heavy whipping cream
1 tsp vanilla extract
7 oz jar marshmallow creme
3 cups powdered sugar
Frosting:
4 sticks salted butter
1/4 cup heavy cream
2 teaspoons vanilla
8 cups powdered sugar
15 Oreos, crushed VERY FINELY
Instructions
Preheat oven to 350 and line muffin tins with liners. Place an Oreo in the bottom of each liner.
In the bowl of a mixer, combine cake mix, eggs, melted butter, and water. Mix on low speed for one minute. Increase speed to high and beat for a minute more. Fill liners 2/3 full and bake for about 20 minutes or until tops of cupcakes spring back when lightly touched.
While cupcakes cool, make your filling.
Prepare filling: In the bowl of your mixer, beat butter, vanilla and whipping cream on medium low speed. Add marshmallow cream and beat on medium until smooth. Slowly beat in powdered sugar until just barely mixed. Increase speed to high and beat for one minute, until fluffy.
Once cupcakes are cooled completely, fill the cupcakes. You can do this by cutting a small hole in the top of the cupcake and spooning the filling in, or putting the filling in a pastry bag with a bismarck tip and piping it in through the top of the cupcake.
In the bowl of a mixer, beat butter, cream, and vanilla on medium-low until smooth and well-combined. Slowly add powdered sugar. Once powdered sugar is barely mixed in, increase speed to medium-high and beat for 2 minutes. Fold in crushed Oreos.
Generously frost or pipe frosting on cupcakes and top with a mini Oreo if desired.
Notes: Store uneaten cupcakes in the refrigerator.