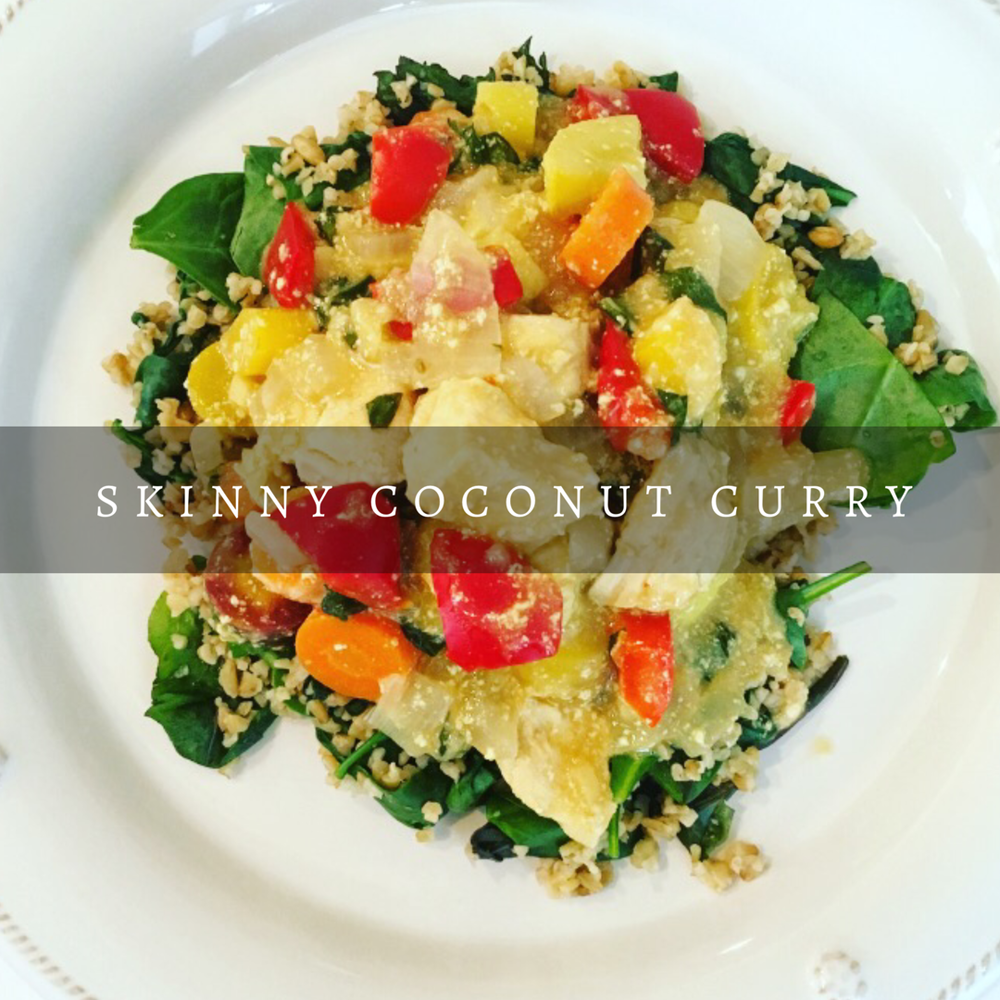 Do you love the smell of curry in your pores when you workout? If so, this skinny coconut curry dish is for you! No high saturated fat creams OR coconut milks. S'good.
I LOVE curries. Like… could eat them daily. But unfortunately they are typically made with high saturated fat creams and/or coconut milks. This not only bumps up the artery clogging saturated fats in the dish, but the calories too! So for years (no joke) I have pondered how to make and curry dish that gave me that same creaminess and coconutty flavor, but none of the saturated fats and calories. And guess what… I found it! This dish uses high protein, low saturated fat and calorie Greek yogurt for the creaminess and coconut extract for an almost NO calorie coconut flavor. "Whaaaaaaaaaaaat?? Is this real life, Lauren?" Yes friends, this is real life. Real curry life. Real low calorie, low saturated fat curry life. And welcome to it.
This dish, in typical Lauren, RD fashion, is chocked full of veggies. I used freekeh, but you could easily substitute with brown rice or quinoa to make this a gluten free dish. I also used chicken, but could easily substitute tofu or chickpeas to make this dish vegetarian.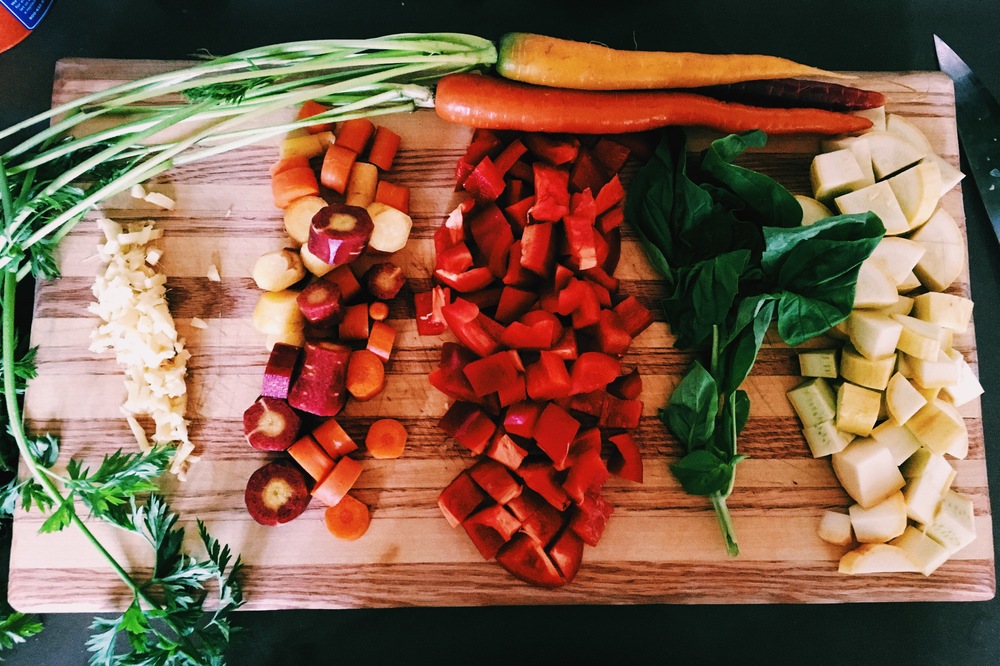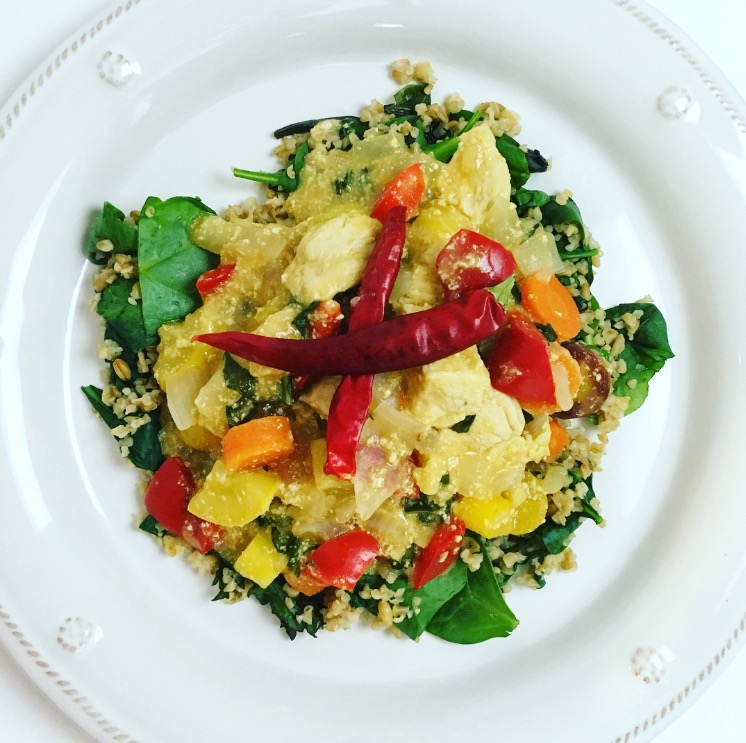 Skinny Coconut Curry
Ingredients
• 1 cup yellow onions, small dice
• 1 cup carrots, large dice
• 1 cup red bell pepper, large dice
• 1 cup summer squash
• 8 ounces chicken breast, cubed
• 1 T fresh garlic, minced
• 1 T. fresh ginger, minced
• 2 T. Thai yellow curry paste
• 2 Tbsp rice wine vinegar
• 1 cup low-sodium chicken both
• ½ cup fat-free yogurt
• 2 t. coconut extract
• 2 t. arrowroot (mixed with 2 t. cold water)
• ¼ cup fresh cilantro
• ¼ cup fresh basil
• 1 cup kale
• 1 cup spinach
• 2 cups cooked brown rice (or grain of choice- I used freekeh)
Directions
1. In a medium greased sauce pot, add chicken, garlic and ginger and cook for 5 minutes.
2. Then, add the onions, carrots, bell peppers and squash. Sauté until onions become translucent and other veggies become tender.
3. Add curry paste and cook for 5 more minutes stirring frequently.
4. Deglaze with vinegar, reduce by half.
5. Add chicken broth and simmer for 15 minutes.
6. Whisk in arrowroot and coconut extract and finish with yogurt, fresh basil and cilantro.
7. Serve over rice with a side of greens, or mix greens into rice and serve hot!
Nutrition Information:
Servings: 6
Per serving – Calories: 190 Fat: 5 g Carbohydrates: 19 g Sugar: 2 g Sodium: 202 mg Fiber: 2 g Protein: 16 g