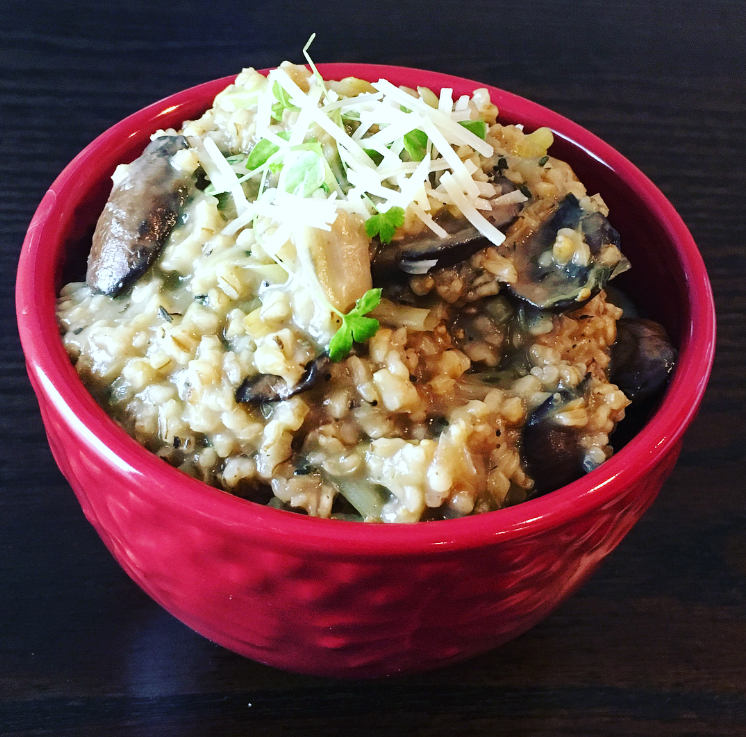 Let me start by saying this: I have never made risotto before. Not with Arborio rice and definitely not with steel cut oats. So I didn't know what I was getting myself into with this dish. Word on the street was that risotto was tough to make, and it took a looooong time. So I prepped myself for a potentially tiring dish. And guess what? It wasn't that bad! Ok I'll admit it, it takes a while to cook. And does take some personal attention (talk about a needy dish). But hard? Not at all. And oh so good. Worth every minute!
You could make steel cut oat risotto with a plethora of flavors (parmesean, seafood, asparagus), but I love 'shrooms, so I decided to start with this flavor.
Risotto definitely isn't the worst dish for you in the world. Yes, it's made with a refined starch versus whole grains. And yes, it's typically loaded with cheese and butter. But nothing is outstandingly "bad" about it (unless of course you eat the whole pot!). I knew, however, that I could easily modify this dish to make it a tad healthier. And after some internet surfing, I found this amazing recipe from www.foxloveslemons.com. Not only does it incorporate steel cut oats, which is a high fiber whole grain that is very slowly digested and, therefore, keeps us full for longer; but it uses very little butter or cheese. And I promise that doesn't mean that it is lacking in flavor!
SAVORY MUSHROOM AND HERB STEEL CUT OAT RISOTTO
Servings: 4
Ingredients:
• 5-1/2 cups vegetable stock (chicken or beef stock may also be used)
• 2 tablespoons unsalted butter
• 1 leek (white and light green part only), halved lengthwise then cut crosswise into thin slices
• 1/2 teaspoon kosher salt
• 12 ounces mushrooms (I used 8 ounces white mushrooms + 4 ounces "gourmet mushroom blend")
• 2 garlic cloves, minced
• 1 teaspoon chopped fresh thyme leaves
• 1 teaspoon ground dried sage
• 1/4 cup dry white wine
• 1 cup steel cut oatmeal (not the quick-cooking kind and use gluten-free if needed)
• 1/4 cup grated Parmesan cheese, plus extra for garnish
• 2 tablespoons chopped fresh parsley, for garnish
Directions:
1. In medium saucepan with lid, heat stock over medium heat until simmering, then reduce heat to low and keep covered.
2. Meanwhile, melt butter in a large high-sided skillet over medium-high heat. Add leek and salt; cook 2 minutes, stirring frequently. Add mushrooms, garlic, thyme and sage; cook 7 to 8 minutes or until mushrooms are very deeply browned, stirring frequently. Add wine, cook 1 minute, stirring constantly.
3. Reduce heat to medium. Add oatmeal; cook 1 minute, stirring constantly. Add 2 ladles of hot stock, cook until oats have absorbed almost all of the liquid. From this point, you'll just continue adding stock, 1 ladle at a time, and stirring. You do NOT need to stand and stir constantly, but you should stir frequently, so just do some other stuff around the kitchen while you linger. The oats should take about 25 minutes to cook (taste to make sure they are tender). You should have enough stock (be sure to keep the lid on it when you're not using it, so it doesn't evaporate!), but if you run out before the oats are tender, just add some water.
4. To finish, vigorously stir in 1/4 cup cheese. Serve in warm bowls garnished with parsley and extra cheese.