I'm a Texas girl, so I LOVE my Mexican food. But as you all probably know, Mexican food doesn't always love me (health-wise anyways). It is typically loaded with cheese, sour cream sauce, fried, or loaded with high fat/calorie meats. Mexican food is also typically heavy on the carbs, which this dish is not. So I love this Rotel Skillet Enchilada recipe. Not only is it healthy, but it is SO quick and easy!
The recipe calls for 1 cup of cheese, but I'll be honest, I usually cut the cheese in half and it still tastes GREAT! I also typically throw some avocado on top for that extra fiber and healthy fat kick. This recipe is gluten free (as long as you buy GF enchilada sauce) and can easily be made dairy free by nixing the cheese (or using a vegan cheese). It works great with chicken OR ground beef. I've used rotisserie chicken before as well which makes this an even easier recipe! Soy crumbles would be an easy, tasty way to make this into a vegan or vegetarian dish.
I made this dish today using the "hot" Rotel. This is not for the light of heart! Even for this heat loving Texas, it was a little much. So just a pre-warning there.
I also threw in a package of mushrooms because, why not beef up the fiber in this puppy?!
I found this recipe at http://www.readyseteat.com/recipes-Chicken-Enchilada-Skillet-2273.html.
Most versatile dish ever? I think so!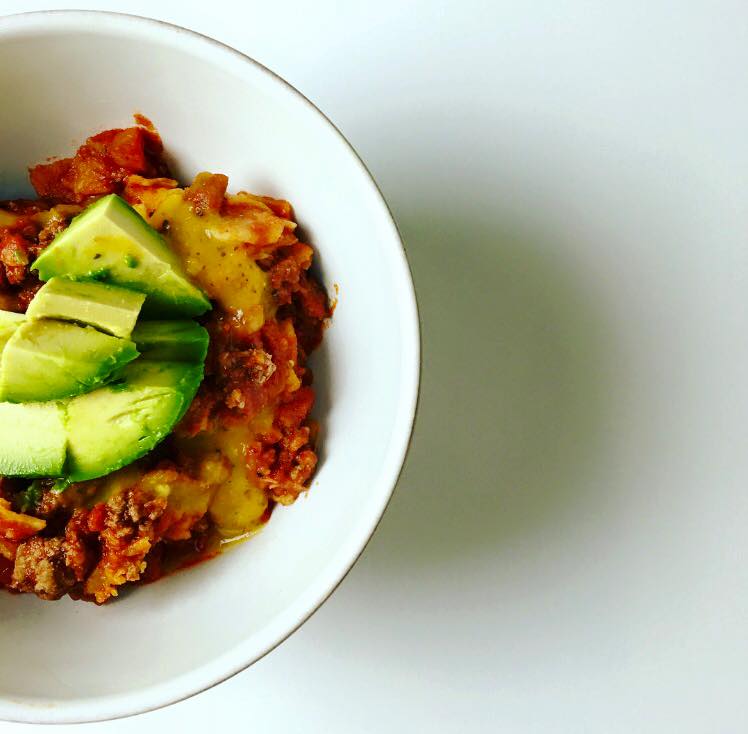 Rotel Skillet Enchiladas
Ingredients
PAM® Original No-Stick Cooking Spray
12 corn tortillas, torn into bite-size pieces
3 cups shredded cooked chicken (3 cups = about 12 oz) OR 12 oz lean ground beef
1 can (10 oz each) Ro*Tel® Original Diced Tomatoes & Green Chilies, undrained
1 can (10 oz each) red enchilada sauce
1 can (8 oz each) Hunt's® Tomato Sauce
1 cup shredded Cheddar and Monterey Jack blend cheese, divided
Directions
Spray large nonstick skillet with cooking spray. Add tortilla pieces and chicken; mix well. Cook over medium-high heat 5 minutes or until hot, stirring frequently.
Pour undrained tomatoes and enchilada and tomato sauces over chicken mixture in skillet. Mix well. Sprinkle 1/2 cup cheese over chicken mixture. Cover skillet; cook 5 minutes or until hot, stirring occasionally. Sprinkle with remaining 1/2 cup cheese. Serve immediately.
Nutrition Facts
(Serving Size: 6)
Calories: 315 (less if you cut cheese in half)
Fat: 19 gm
Saturated Fat: 5 gm
Protein: 20 gm
Sugar: 5 gm
Fiber: 6 gm