I am late onto the seared scallop bus. Not in the sense that I never eat them. I love ordering them at restaurants when I'm not the one cooking. But as a dish I serve my family? Never. Until this one magical night…
For this recipe, I used a bag of frozen scallops from Trader Joes. At around $15 per bag, you can't beat the price. I've paid triple this at a restaurant for 3 skimpy scallops! I just let them thaw in the fridge all day before using.
When it comes to cutting calories, scallops are a dish you can't beat. 90 calories per 3 ounce serving. To compare, most apples contain about 90 calories- that's nuts! Not to mention that 3 ounces of this shellfish also contain 17 gm of protein. I can't think of many foods that can beat that calorie to protein ratio. Scallops are also a low fat food (about 0.5 gm per 3 oz serving). Most importantly, scallops are freaking tasty!
I can't believe how easy these little critters are to cook. Like… almost too easy. Throw them in a skillet, sear for 2 minutes on each side. Done and done. THAT'S IT. Why have I not been eating these for years?!
I paired them with cannellini beans and green veggies for this dish, but you could do just about anything with the stuff. Throw them on top of grits, toss them into a stir fry, use for ceviche… the possibilities are endless! Give them a try.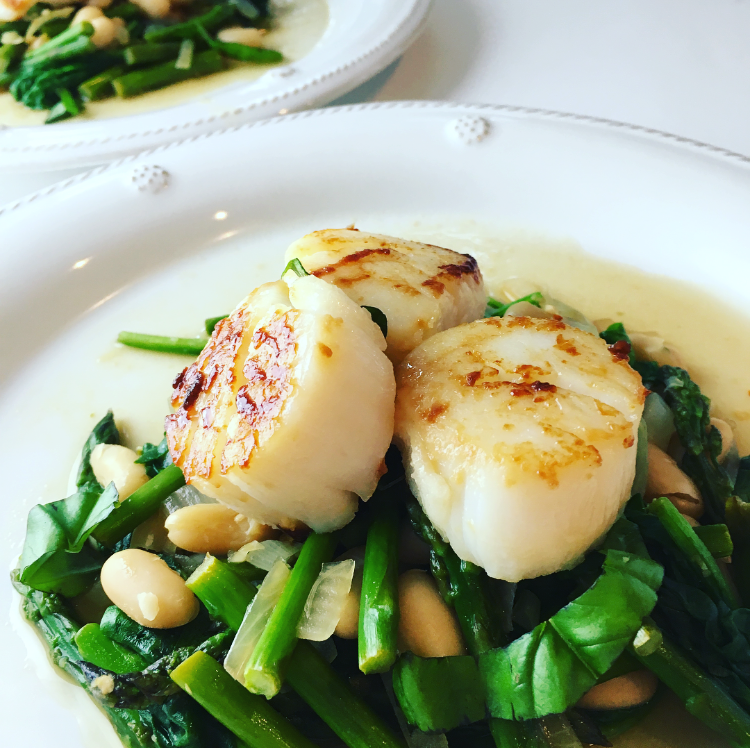 Seared Scallops with Cannellini Beans
Servings: 4
Ingredients:
• 1 1/2 pounds sea scallops
• 1/4 teaspoon salt
• 1 cup chopped onion
• 1 small bunch asparagus, chopped
• Pinch of crushed red pepper
• 2 garlic cloves, minced
• 1/4 cup dry white wine
• 1 cup fat-free, less-sodium chicken broth
• 1 (19-ounce) can cannellini beans, rinsed and drained
• 1 (6-ounce) package fresh baby spinach
• 2 tablespoons chopped fresh basil
Directions
1. Spray a large nonstick skillet and heat over medium-high heat. Sprinkle scallops evenly with salt. Add scallops to pan; cook 2 minutes on each side or until done. Remove scallops from pan; keep warm.
2. Re-spray pan and add onion and asparagus to pan; sauté 2 minutes. Add pepper and garlic; cook 20 seconds, stirring constantly. Stir in wine; cook 1 minute or until most of liquid evaporates. Stir in broth and beans; cook 2 minutes. Add spinach; cook 1 minute or until spinach wilts. Remove from heat; stir in basil.
3. Enjoy! I ate this dish once as is and once over grits. Both ways were fantastic.