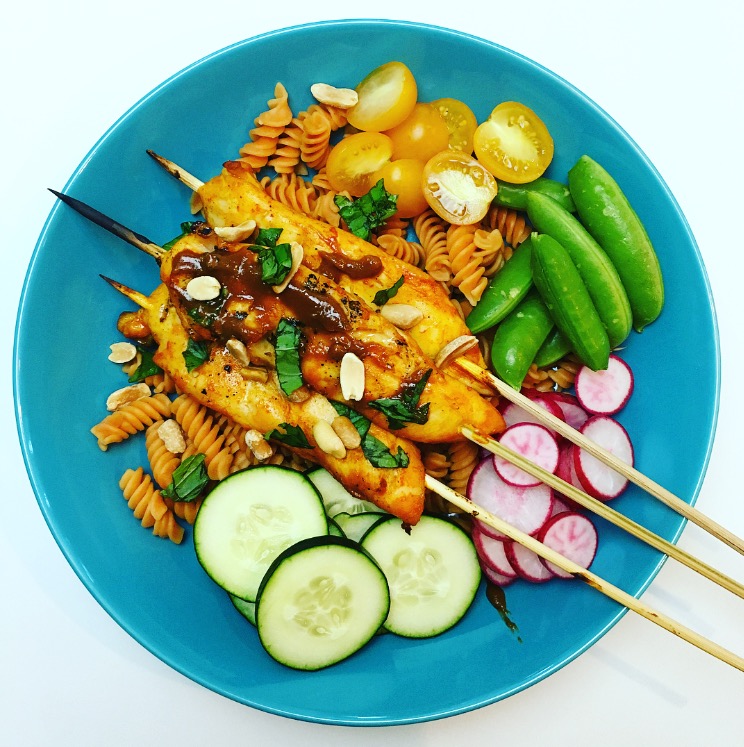 Ever since my husband and I traveled to Thailand for our honeymoon, I have been OBSESSED with Thai food. Ok fine, I was obsessed with Thai food long before my honeymoon, but visiting Thailand definitely sealed the deal. One thing that really surprised me about Thailand was how good the street food was. I enjoyed it maybe even more than the restaurant food. And I'm preeeeeeety positive it wasn't dog meat.
The biggest health issue with Thai food is typically either that it's loaded with high carb and calorie pasta (think pad thai) or with high saturated fat and calorie coconut milk (think curry) or… let's face it… both! That's why I love chicken satay. You don't get any of the refined carbs or the fried meats. And this chicken satay is even healthier (duh)! With light coconut milk, PB2, and lean meat, you can have your little taste of Thailand without the guilt (or the mystery meat). Stole this recipe from www.skinnytaste.com and modified it a bit to my taste/health liking.
Serve alone as an appetizer or over whole wheat pasta (or lentil pasta as pictured above) with tons of delicious veggies!
GRILLED CHICKEN SATAY WITH SPICY PEANUT SAUCE
PREP TIME: 30 minutes
INGREDIENTS:
FOR THE MARINADE:
1/2 cup light coconut milk
1 tablespoon Asian fish sauce
2 teaspoons red curry paste
1 teaspoon brown sugar
1 tablespoon chopped cilantro
1/2 teaspoon ground turmeric
1/2 tsp kosher salt
freshly ground black pepper, to taste
1 -1/4 pounds thin sliced boneless, skinless chicken cutlets
16 large Bamboo skewers, soaked in cold water
lime wedges, for garnish
1 tablespoon chopped basil or cilantro, for garnish
1 tablespoon chopped peanuts, for garnish (optional)
FOR THE PEANUT SAUCE (MAKES 1/2 CUP):
1/3 cup low sodium chicken broth
2 tablespoon PB2
1 tabespoon reduced sodium soy sauce (Tamari for gluten-free)
2 teaspoon honey
1 teaspoon Sriracha chili sauce
1 teaspoon freshly grated ginger
1 small clove garlic, minced
DIRECTIONS:
In a bowl, mix all marinade ingredients except chicken and garnishes. Slice the chicken into long, thin strips, about 3 inches long by 1 inch wide, and add to marinade. Turn chicken to coat, cover and refrigerate for at least 4 hours.
Meanwhile, prepare the peanut sauce. Combine all the ingredients in a small saucepan and whisk well. Bring to a boil, reduce heat and cook until smooth, stirring constantly, about 5 minutes. Set aside to cool to room temperature.
Prepare grill to high heat and thread marinated chicken onto soaked bamboo skewers. Place on grill and cook 2 to 3 minutes per side, or until cooked through. Serve with lime wedges and peanut sauce and garnish with cilantro and peanuts.