As a clinical dietitian, one of the most misunderstood nutrients to my clients is protein. Protein is the trendiest thing since scrambled eggs, but why?
What? Protein is found throughout the body in muscle, bone, skin, hair, and virtually every other body part or tissue.
Why? Protein is imperative for muscle growth. Our bodies use protein to build and repair tissues. Protein is also a key macronutrient for satiety. It helps us to control blood sugars, hunger, and energy levels. Without it, we would be hu ngry all of the time (and you know that's not good for your waistline OR wallet)! You also use protein to make enzymes, hormones, and other body chemicals.
How much? The recommended daily allowance for protein is 0.8 gm/kg of body weight for the average adult. That's around 40-70 gm of protein per day for most people. For athletes, active people, and older individuals, I recommend slightly higher than this, but never over 2 gm/kg protein per body weight. It is best to evenly distribute protein through all 3 meals, vs back-loading it at dinner, as most Americans tend to do. A study in the Journal of Nutrition found that people who ate 30 g of protein at each meal had a 25% boost in muscle building, compared with those who ate the same amount of protein but skimped in the morning and loaded up at night.
So how much protein is in the food we eat? The following is a guide:
Meat (1 oz cooked)= 7 gm protein
Flatout Protein Up flatbread= 12 gm protein
Soy (1/2 cup tofu, tempeh, edamame)= 10 gm protein
Greek yogurt (6 oz)= 15 gm protein
Milk (8 oz)= 8 gm protein (FYI: almond, coconut, and rice milk= 1-2 gm protein/8 oz)
Whole grains (1 cup cooked)= 7 gm protein
Nuts and seeds (1/4 cup)= 6 gm protein
Beans and legumes (1/2 cup cooked)= 8 gm protein
Egg= 6 gm protein
What does a typical day with adequate, evenly spaced protein look like? (For a 150 lb person and 65 gm protein/day goal)
BREAKFAST:
2 scrambled eggs + 1/4 cup low-fat cottage cheese (19 gm)
LUNCH:
½ cup tofu+ 1 Flatout Protein Up flatbread (24 gm)
DINNER:
3 oz grilled chicken (21 gm)
Want a great, high protein recipe? Try this mango chicken salad wrap!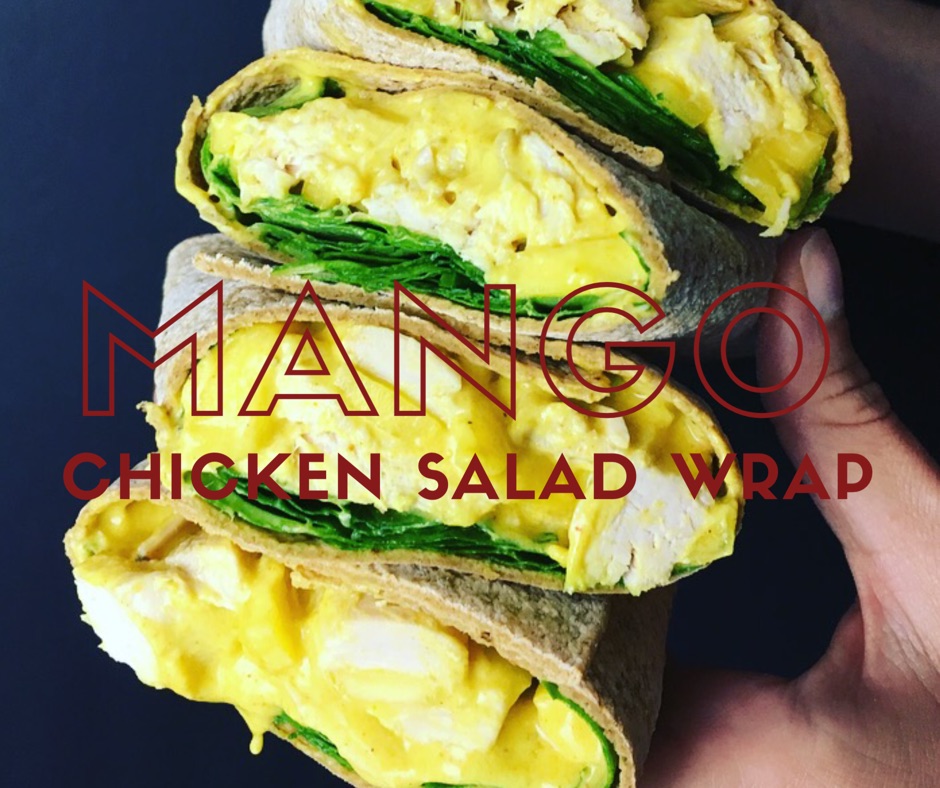 Mango Chicken Salad Wrap
Servings: 4
Ingredients
3/4 cup plain low-fat Greek yogurt
1/2 cup chopped fresh cilantro
2 tablespoons fresh lime juice
2 tablespoons mango chutney (I used Major Grey's)
1 tablespoon Dijon mustard
1 teaspoon ground turmeric
1/4 teaspoon cayenne pepper
Salt and pepper, to taste
1 store-bought rotisserie chicken (about 2 1/2 pounds), shredded (about 4 cups)
1 mango, peeled, seeded, and diced
3 ounces baby spinach
4 Flatout Protein Up flatbreads
Directions
In a medium bowl, stir together yogurt, cilantro, lime juice, chutney, mustard, turmeric, and cayenne; season with salt and pepper. Add chicken and mango; toss. Line flatbreads with spinach, then top with chicken mix. Roll and enjoy!