When I moved from Dallas to Denver I was devastated to discover that Denver sushi restaurants did NOT have my beloved crab or tuna towers. And I have searched EVERYWHERE. My husband has been mortified by me on occasion when I ask if restaurants can make it for me despite it not being on their menu. And no, that doesn't work.
Why do I love a crab tower so much, you ask? Well, it's the perfect balanced meal in a beautiful, type A friendly, clean tower. The brown rice provides your whole grain carb. The mango provides your fiber and fruit. The tomato and onion are your healthy non-starchy vegetables (and lycopene, and vitamin C, and phytonutrients, and chromium). The avocado provides your healthy monounsaturated fats and potassium. And the crab meat is your low calorie protein source.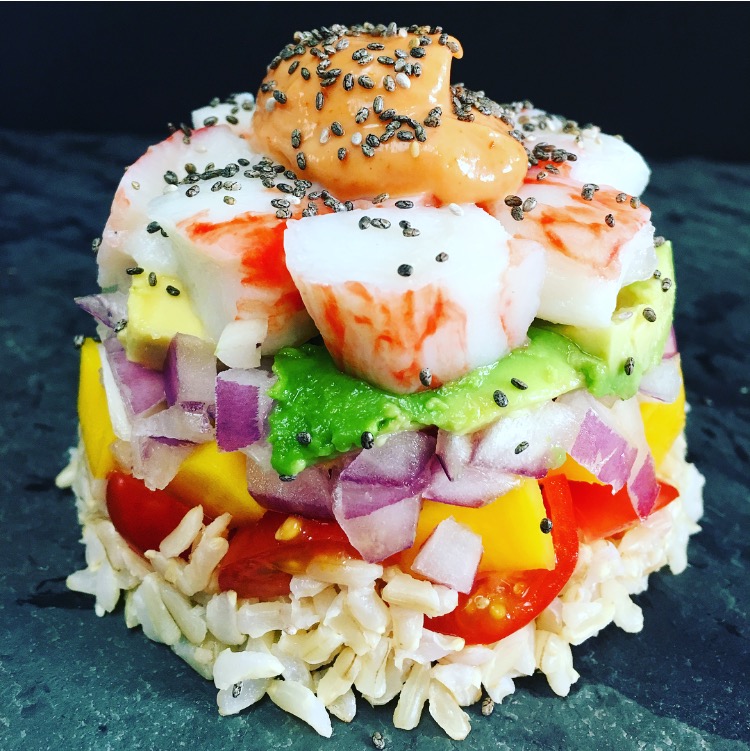 Lump Crab Tower
Servings: 4
Ingredients:
1 1/3 cups cooked brown rice (I used a 10 ounce bag of frozen brown rice)
2 Tablespoons rice vinegar
4 teaspoons low fat mayo (can sub plain Greek yogurt)
1 teaspoon sriracha sauce
8 ounces lump crab meat
1 large avocado, diced
1/2 small red onion, diced
1 small mango, diced
1 cup grape tomatoes, diced
4 teaspoons reduced-sodium soy sauce
4 teaspoons chia seeds (or sesame seeds)
Directions:
Mix cooked rice and rice vinegar. Set aside to cool.
Mix mayo and sriracha in a small bowl and set aside.
Using a 1 cup dry measuring cup (or coffee mug), layer 1/4 of the crab meat, 1/4 of the avocado, 1/4 of the onion, 1/4 of the mango, 1/4 of the tomatoes, and 1/4 of the rice. Press down slightly to pack into place.
Carefully turn the cup upside down to turn the stack onto a plate. To help, I set the plate on top of the cup then turned the cup and plate right-side up before removing the cup.
Top with 1 teaspoon soy sauce and a dollop of the mayo/sriracha mixture. Sprinkle with 1 teaspoon chia seeds.
Repeat with remaining ingredients to create all 4 stacks.