If you're reading this you probably already know- I love pizza. Yep, dietitians are human too. But not only do I not always want to be all fancy and spend my whole night prepping the dough, I also don't always want to eat a pizza whose calorie count would make a sumo wrestler cry. (Hello- I've gotta save some calories for dessert, duh). Cue the Flatout. Have I mentioned lately that I love this stuff?
Prep time= 2 minutes (just enough time to cue up Homeland on your TV).
Calories= 120 (that's the equivalent of about a large apple, people).
Protein= 5 gm (that's the equivalent of about a 1/2 cup of chickpeas).
Taste= priceless (yes, I just referenced the 2006 Mastercard commercials).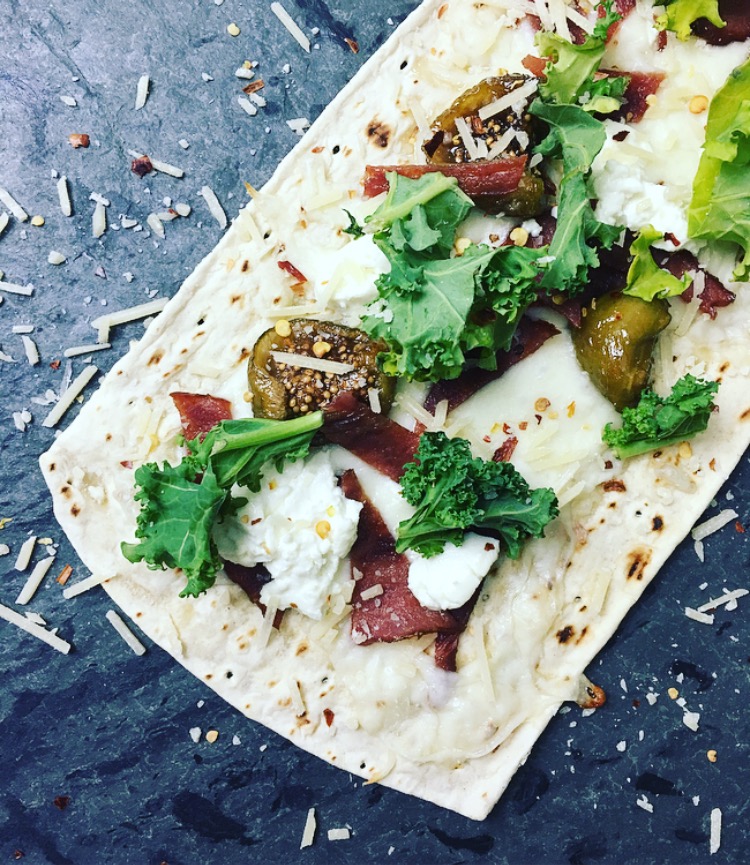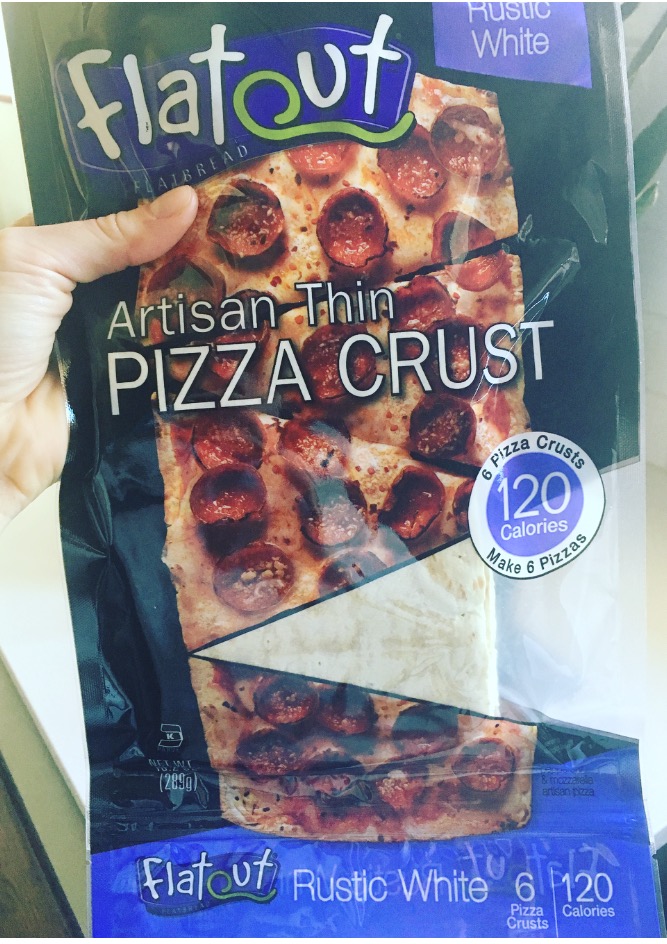 I first tried a version of this pizza in Crested Butte, CO at the BOMB of a restaurant called Secret Stash. If you haven't been, you can stop reading. JK. But really- go soon. Crested Butte is awesome and I'm not even a ski person. Their version of this is called The Notorious FIG. RIP BIG. It was the winner of the world pizza challenge.
Plug- if you recruit judges for this challenge- I AM IN- YOU DONT EVEN HAVE TO PAY ME.
Ok, back to my flat bread. So anyways, this pizza is freaking good and I dream about it on the reg. So I decided to throw my RD twist on it and give it a try in my own kitchen. And what do you know… it was actually really good!!! Healthy eating at its' finest.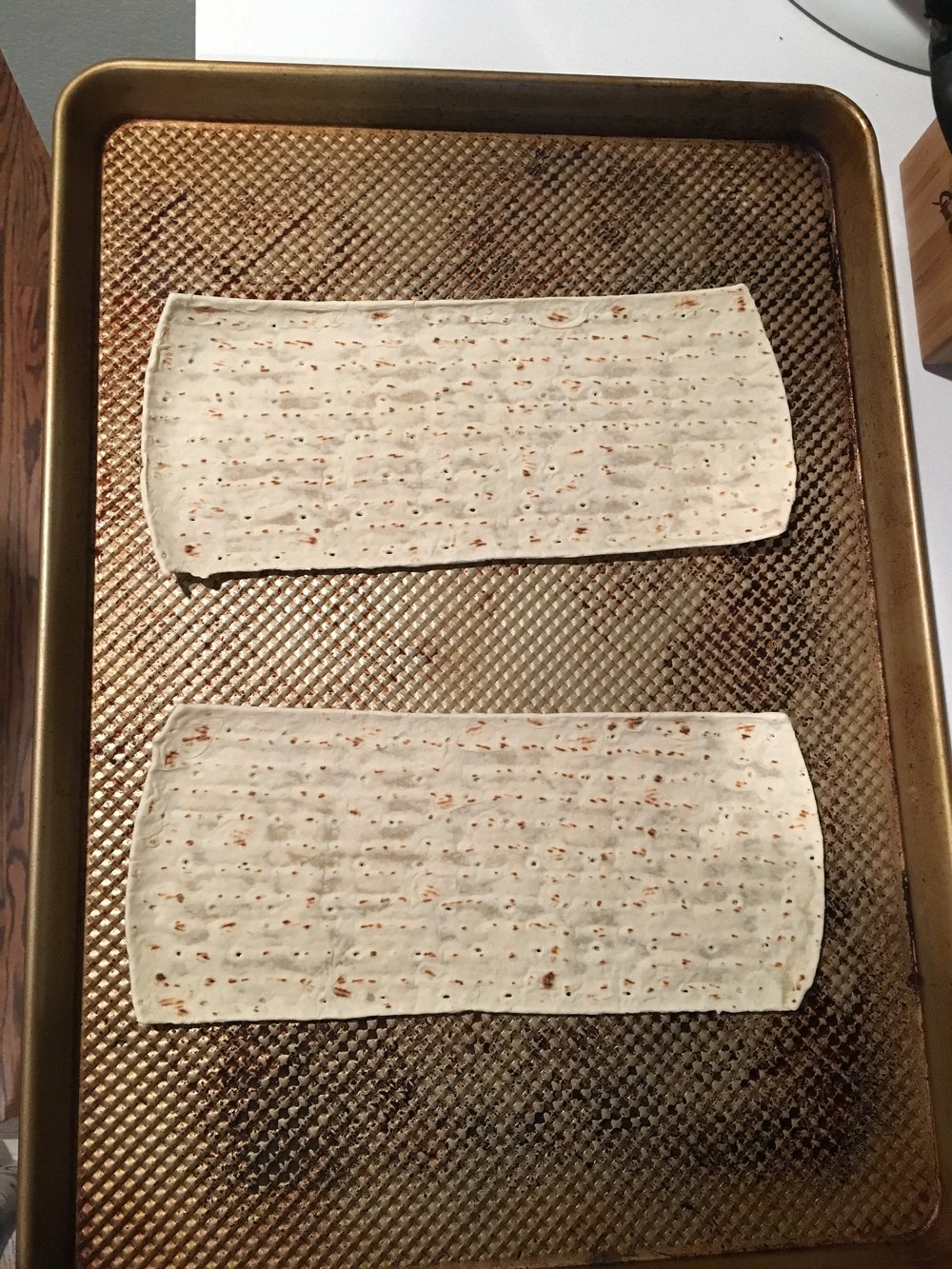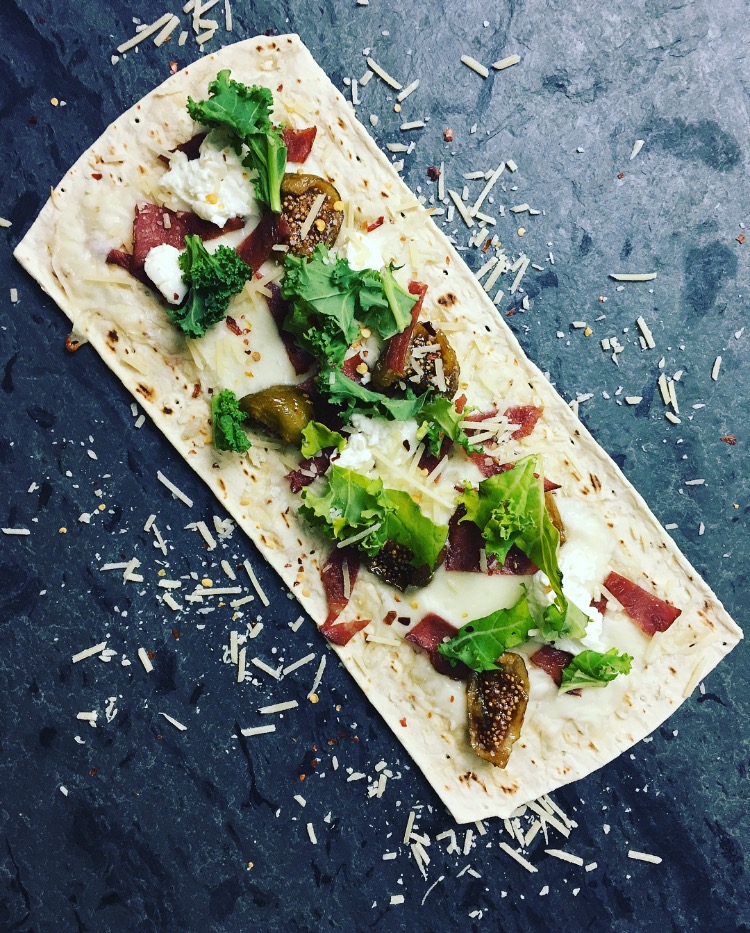 Skinny Fig Goat Cheese Flat Bread
Ingredients:
2 Flatout Flatbread Pizza Crusts
2 teaspoons olive oil
1 teaspoon sea salt
1/2 cup part-skim shredded mozzarella cheese
1 ounce goat cheese
1/4 cup dried figs, halved if whole
4 slices cooked turkey bacon, crumbled
1/4 cup kale (can sub for arugula or spinach)
Parmesan and red pepper flakes to top
Directions:
Preheat oven to 375 degrees F.
Place Flatouts on a baking sheet. Pre-bake crust for 2 minutes.
Spray (or spread) 1 teaspoon of olive oil onto each crust. Top each with 1/2 teaspoon sea salt.
Sprinkle each Flatout with 1/4 cup mozzarella.
Spoon 1/2 ounce goat cheese onto each crust in small clumps evenly on top of the mozzarella.
Divide figs in half and place each half evenly onto each crust.
Sprinkle crumbled bacon evenly onto each crust.
Bake again for 4-5 minutes or until cheese is melted.
Top each Flatout with an even amount of kale. Season with Parmesan and red pepper flakes.