I have a confession to make. When I first learned about cauliflower rice, I wasn't that impressed. As a dietitian, I freakin' love carbs. I think the poor things get a bad rep. We need carbs for energy, for our brains to function, they are a great way to get in fiber, B vitamins, whole grains…. I could go on. But bottom line: I didn't care much about cauliflower rice. Until now. I have Trader Joe's to thank for my new obsession. I mean, why wouldn't I try cauliflower rice when it was pre riced for me and sold for a mere $1.99?! So I tried it. And guess what? I LOVE IT. Cauliflower rice isn't necessarily about avoiding my beloved carbs. It's about sneaking in more fiber, more veggies, more vitamin C, more vitamin K. It's about cutting calories without sacrificing taste. It's about finding an easy gluten free solution for my Celiac friends.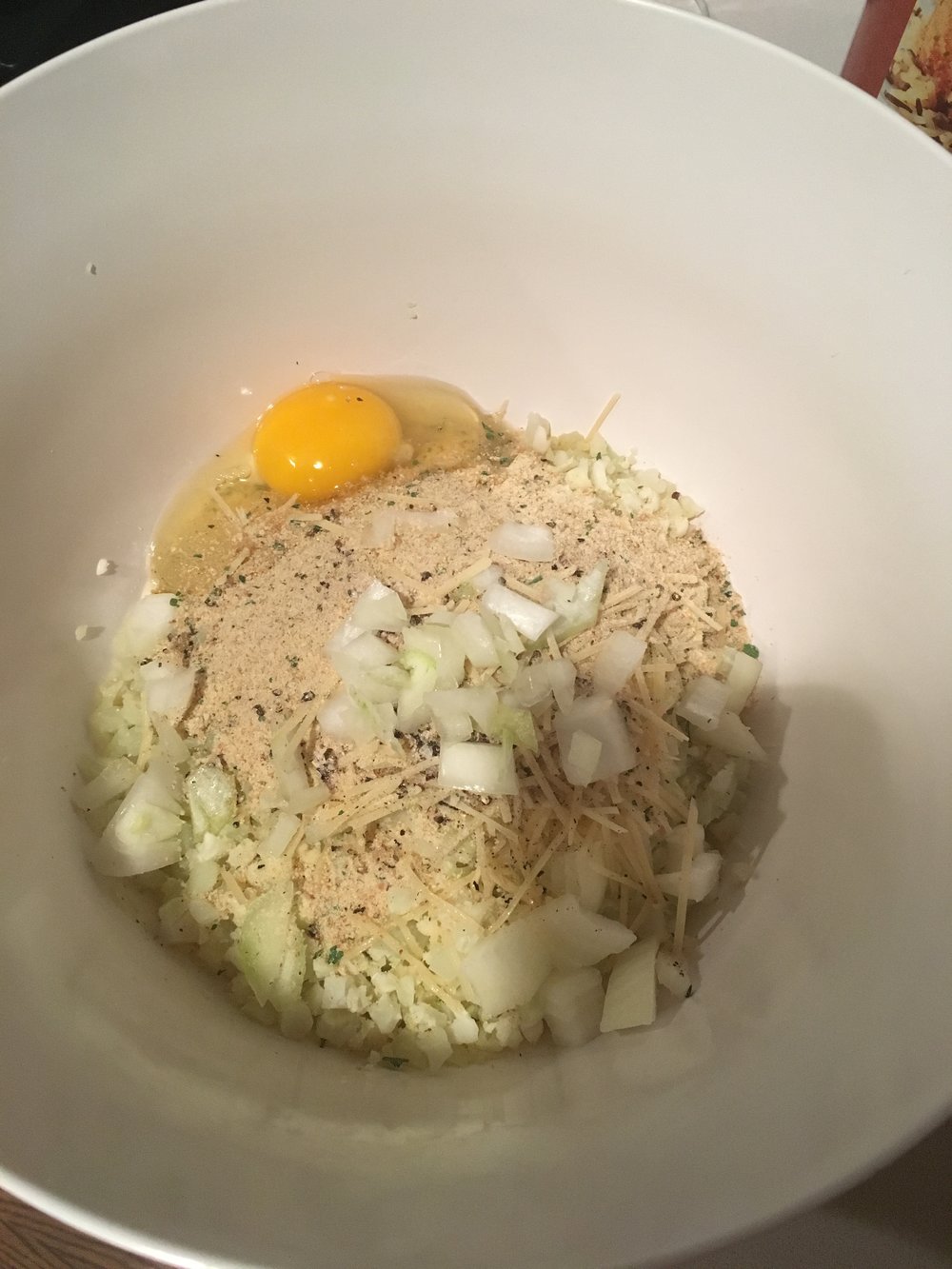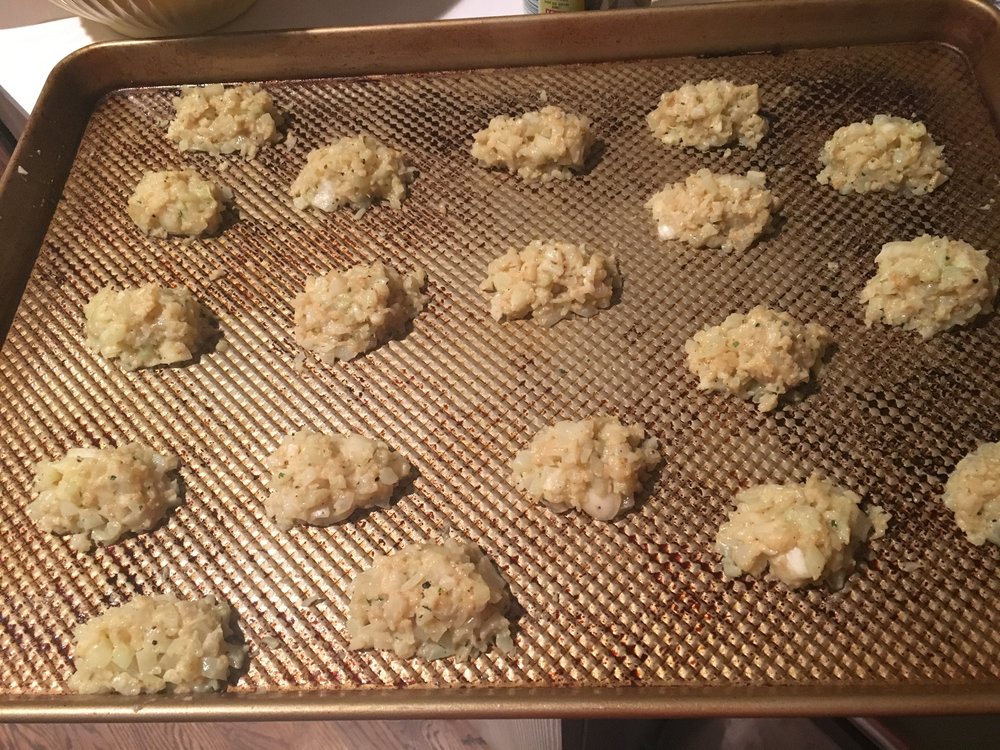 I had heard of recipes such as cauliflower pizza crust and fried cauliflower rice, but tater tots made from cauliflower?! Sign. Me. Up. Why are these tots money?
1. They're baked, not fried.
2. I can't think of a sneakier way to get in extra veggies.
3. They are pretty stinkin' easy to make.
4. 5 ingredients (plus salt + pepper).
5. They're higher fiber, lower calorie than the real deal.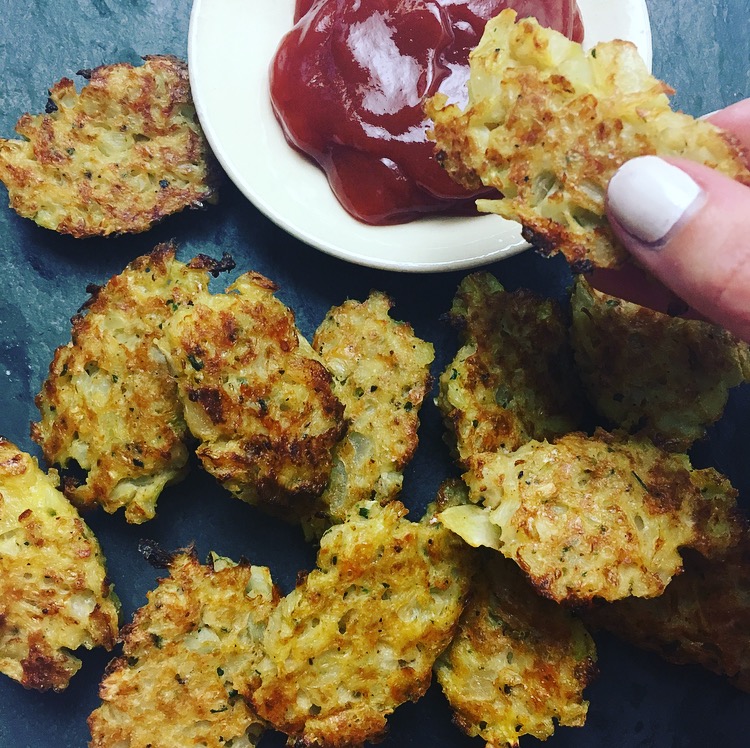 Cauliflower Rice Tots
Prep Time: 20 minutes
Cook Time: 45 minutes
Yield: about 20 tots
Ingredients:
· 12 ounce bag frozen cauliflower rice (or roughly 2 medium heads of cauliflower)
· ¼ cup seasoned breadcrumbs
· 1 large egg
· ¼ cup onion, diced very small
· ¼ cup grated Parmesan cheese
· 1 teaspoon salt
· ¼ teaspoon pepper
Directions:
1. Preheat the oven to 350°F. Grease a nonstick baking sheet with cooking spray.
2. Steam cauliflower rice per instructions on the bag. If you are making your own cauliflower rice, chop cauliflower heads into florets. Steam florets using boiling water and a covered steamer until tender, about 5 to 10 minutes. Thoroughly drain the florets and transfer them to a food processor. Pulse the cauliflower until it breaks down into small pieces about the size of grains of rice. Do not overmix.
3. In a large mixing bowl, mix the cooked cauliflower rice, breadcrumbs, egg, diced onion, Parmesan cheese, salt, and pepper. Mix until thoroughly combined. The mixture should be roughly the consistency of mashed potatoes.
4. Using your hands, scoop up 1-2 tablespoons of the mixture and mold it into a tater tot shape. Place it on the prepared baking sheet and repeat the shaping process with the remainder of the mixture, spacing the tots about 1 inch apart.
5. Bake for 20 minutes.
6. Flip tots and bake an additional 10 to 15 minutes until crisped. Remove and serve with reduced sugar ketchup, pesto, hummus, or dipping sauce of choice.