It's ironic that my husband and I are so in love. His favorite foods are pizza and donuts. My favorite foods are peanut butter and avocado (it's safe to throw broccoli into the mix as well). So as I'm sure you can imagine, keeping us both happy in the food department can be tough. We often find ourselves making healthier versions of his favorite foods. So instead of Dominos we will have FlatOut pizza, instead of brownies we will have black bean brownies… you get the gest.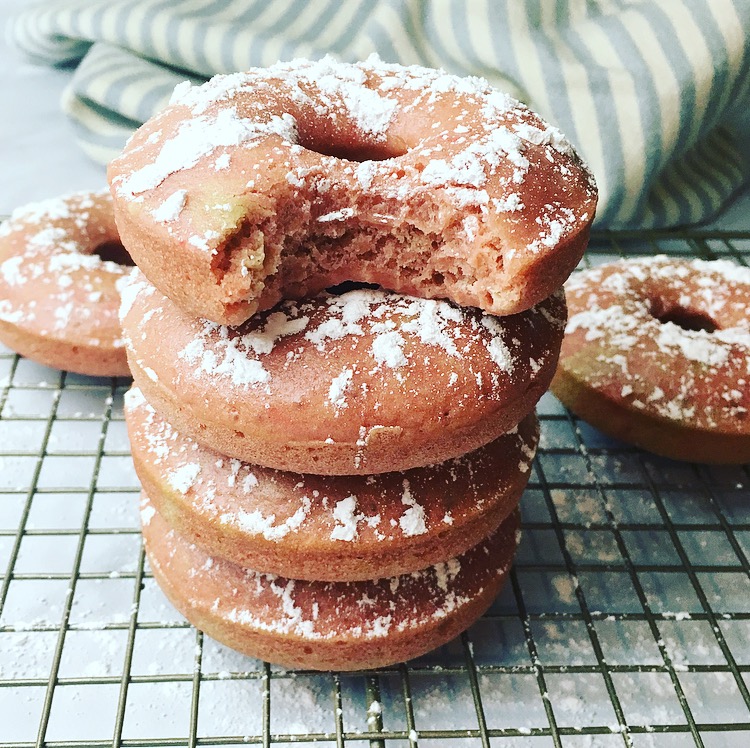 On to donuts. A funny story: It's no secret that my hubby loves donuts. We have tried a few times to make our own but we made donut holes vs actual donuts because we never had an actual donut pan. So for Christmas this year, I decided that a donut pan would be a good stocking stuffer. Well, to both of our surprise, he had the same gift idea. So we both opened donut pans at the same time from each other! If that's not love (or a huge sign that we need to eat/make more donuts) than I dono what is!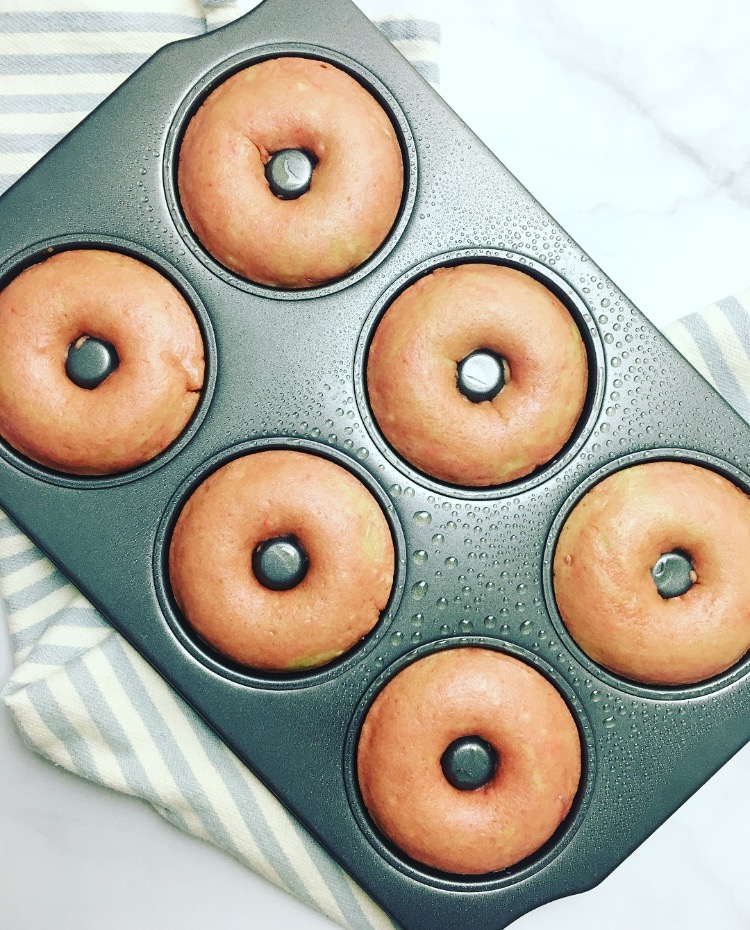 To make these red velvet donuts red, I used beet juice instead of red food coloring. Beet juice is a great natural way to color your baked goods. The vibrant red color of beet juice is strong enough to mimic synthetic red food coloring. You don't taste the beet- promise.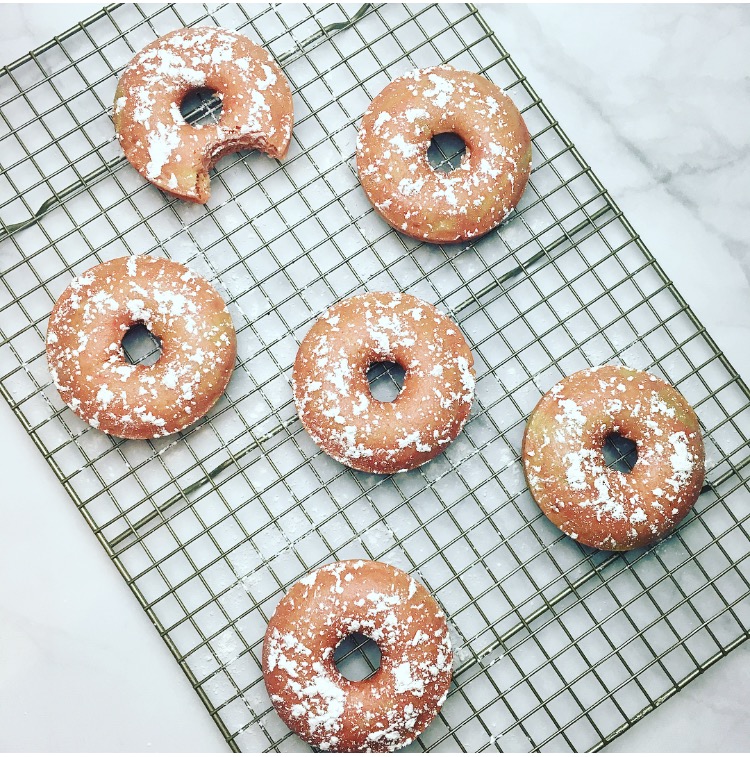 In place of the oil in this recipe, I used unsweetened applesauce. Applesauce can be used to replace butter or oil in baked goods. Using applesauce in place of these fats will lower both saturated fat and calories in your recipe. Make sure to use the unsweetened variety and use it in a 1:1 ratio in place of fat in recipes.
I got my inspo for this recipe from www.chocolatecoveredkate.com.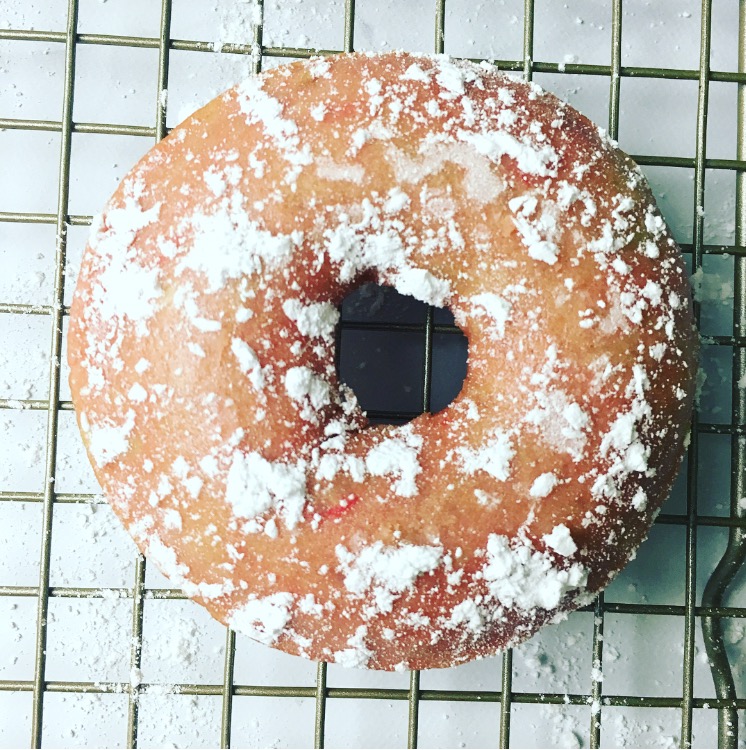 Healthy Red Velvet Donuts
Servings: 6 donuts
Total Time: 15 minutes
Ingredients:
1 Tablespoon milk of choice
1 teaspoon white or apple cider vinegar
1/4 teaspoon pure vanilla extract
1/3 cup pure maple syrup or agave or honey
3 Tablespoons beet juice
3 1/2 Tablespoons unsweetened applesauce
1 cup all-purpose flour, loosely packed
1/4 teaspoon salt
1 teaspoon baking powder
Directions:
1. Combine first 6 ingredients and set aside.
2. Grease a donut pan OR mini muffin pan, and preheat oven to 350 F.
3. In a separate bowl, stir together remaining ingredients.
4. Once oven is preheated, pour wet into dry and stir until just evenly mixed. Don't overmix.
5. Bake 10 minutes or until donuts have risen and batter is no longer wet. Let sit 5 minutes before removing from the pan. I sprinkled mine with powdered sugar once cooled.
Nutrition per serving: Calories 126, Total Fat 0g, Total Carbohydrates 28g, Sugar 1g, Fiber 6g, Sodium 113mg, Protein 2g