As most of you know, my husband and I just moved to Houston, TX from Denver, CO last Sunday. It's been a whirlwind to say the least. We drove from Denver to Dallas (where my family and many friends are) on Friday morning. After a grueling 13 hours, we finally made it to Dallas. We spent the weekend in Dallas visiting family and friends and drove the rest of the way (3.5 hours to be exact, but who's counting…?) on Sunday afternoon. From Sunday to Friday we stayed with my friend Layne and her husband (they are saints- thank you again Layne). On Friday morning we flew out to Midland, TX for a wedding until Sunday. We got back late last night and moved into our beautiful extended stay hotel (womp womp). Fingers crossed we find a house soon because this is NOT an ideal living sitch. All of that to be said- our meals have been less than ideal. We have been eating out a ton and grabbing quick easy meals when we can at home (aka Layne's or our hotel). Paris Hilton- I dono how you do it. Hotel life is not as glam as she makes it seem, you guys.
Last week, Layne and I decided to play around with one of my favorite products, Flatout Flatbread. In the brainstorm to come up with something quick and healthy, we invented… drum-roll please…the Flatout Pesto Pizza! It took all of 10 minutes to throw together, most of the ingredients we already had in the fridge, and most importantly, it was SO TASTY.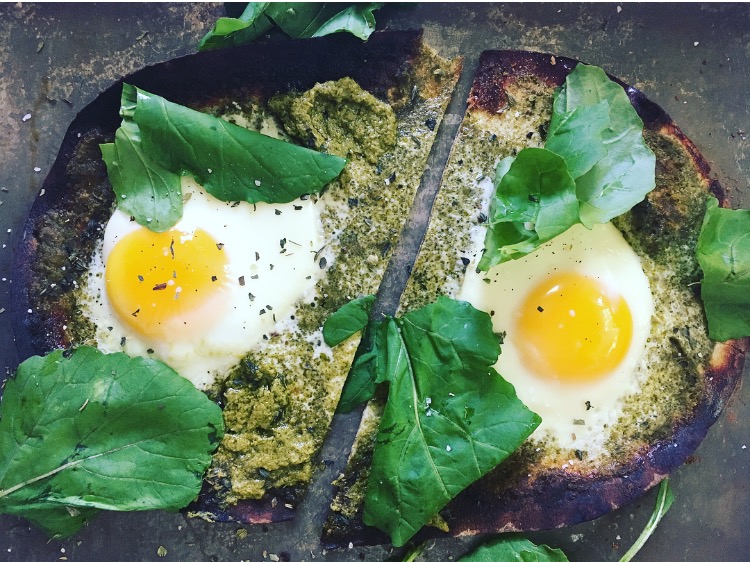 When creating meals, my goal isn't just to think about what is going to be the lowest calorie or the lowest fat. My goal is to figure out how I can get the most bang for my calorie. For example, if I were to just aim for a low calorie meal, I may throw together a salad with low-fat dressing. The problem with this? I'll be hungry again in an hour! The solution? Maybe I'll throw some avocado in with my salad. Maybe I'll also throw in some chicken breast. Maybe instead of the avocado I'll use full fat dressing with olive oil. Why, you ask? Well, if all I think about are calories, I will likely be leaving out all of my most satiating ingredients like protein and fat. When it comes to feeling full, you must have 3 things:
Protein
Fiber
Healthy Fats
Without at least 2 of these 3 nutrients, you're going to feel hungry again very quickly (trust me on this). So my goal with meals and snacks is to figure out how I can keep calories relatively low while still including at least 2 of those magical satiety inducing nutrients. Make sense? Hence why the below meal was not only low in calories, but also kept us feeling full for hours! You've got your healthy fats from the eggs and pesto (olive oil). You've got your fiber from the arugula and Flatout (whole grains). And you've got your complete protein from the eggs (23 gm protein in all for this little meal- BOOM). My protein goal, by the way, for any meal is between 15-25 gm.
As I mentioned in my last Flatout post, Flatout Flatbread is now endorsed by Weight Watchers. Flatouts are BIG on flavor with no added sugar while also being a terrific source of protein and fiber, making them a great choice for those looking for healthier flatbread options. As you know, I'm obsessed with them to say the least.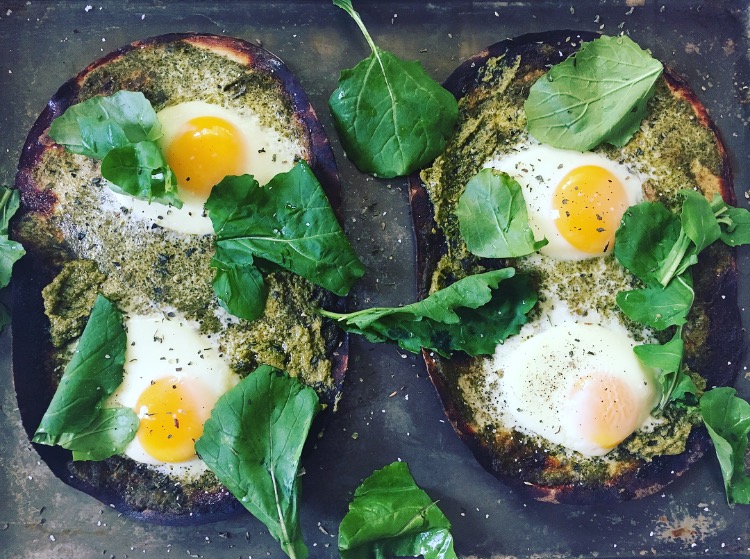 Flatout Pesto Pizza
Servings: 1 pizza
Prep/Cook Time: 10 minutes
Ingredients:
1 Flatout Flatbread multigrain wrap
1.5 Tablespoons pesto
2 eggs
1/4 cup arugula
Salt, Pepper, Oregano to taste
Directions:
Preheat oven to 450 degrees.
Place Flatout on a baking pan and top with pesto evenly.
Crack eggs onto pesto leaving room between eggs and being careful not to let white drip off of Flatout.
Bake for 8-10 minutes or until white is cooked and egg is slightly runny.
Top with arugula, salt, pepper, and oregano.
Nutrition Information: 350 calories, 22 gm fat, 16 gm total carbohydrates, 8 gm fiber, 0 gm sugar, 23 gm protein
Weight Watchers Points Plus: 9 points