"MOM. More meatloaf!" I am fully aware that meatloaf isn't exactly the trendiest of dishes, but it sure is good! And what better way to get in a lean protein? What if I told you that your meatloaf could not only pack in the protein but ALSO the whole grains and vegetables?! Would you believe me? Well, you better! Because it can! This meatloaf has oats (whole grain), lean ground beef (lean protein), and kale and onions (veggies, duh). And best of all… it tastes GREAT! Do I sound like a used car salesman yet?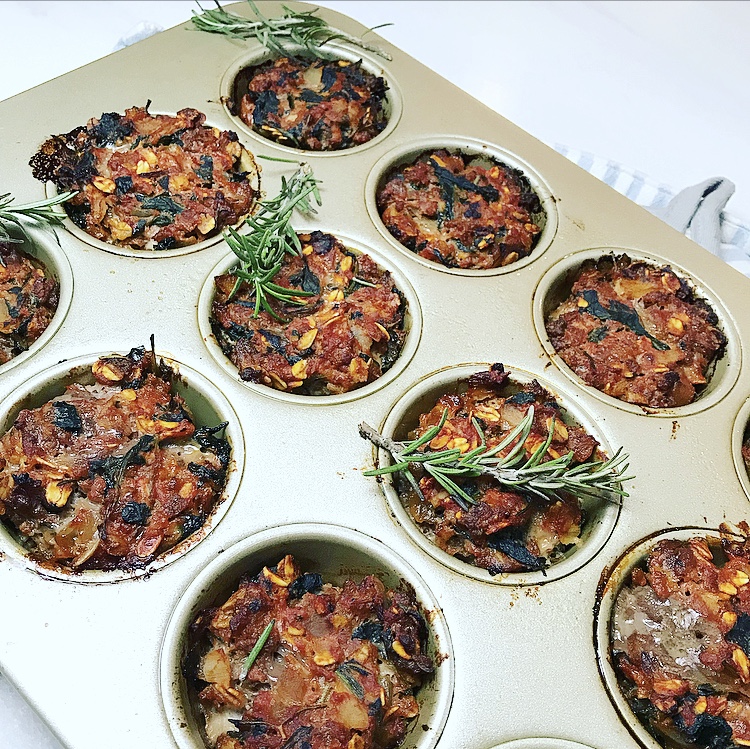 This dish can be made into a loaf or into muffins. I prefer muffins because not only do they cook faster (and we all know I prefer not to wait long for food), but they're easier to portion control as well.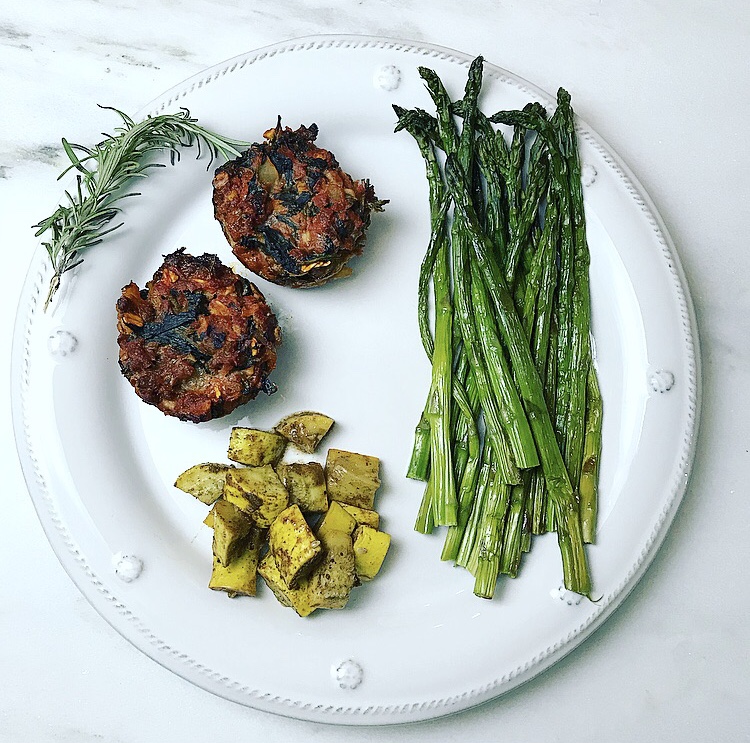 Kale-Stuffed MeatLoaf
Servings: 6
Ingredients:
2 tsp olive oil
2 cup chopped onion
4 cloves garlic, minced
3-4 cups kale, chiffonade leaves, discard stems
1 cup tomato paste
1/2 tsp pepper
1/2 tsp salt
1 Tbsp fresh rosemary, chopped with stems discarded
2 Tbsp Dijon mustard
1.5 pounds lean ground beef (I use 90/10 lean)
1/2 cup rolled oats
2 eggs
Directions:
Preheat oven to 375 degreed Fahrenheit.
Heat oil in a skillet over medium heat. Add onion and cook until fragrant, about 6 minutes, stirring frequently. Add garlic and kale and cook an additional 1-2 minutes until wilted. Remove from heat and transfer to a bowl to cool.
In a separate bowl, mix tomato paste, pepper, salt, rosemary, and mustard.
In a large bowl, mix beef, oats, and eggs with hands to incorporate well. Once well mixed, add in tomato mixture. Fold in the cooked vegetable mixture.
Transfer to a loaf pan or muffin pan. If using a loaf pan, bake for 45-60 minutes until dish heats to 160 degrees Fahrenheit internally. If using a muffin pan, bake for 25-30 minutes or until dish heats to 160 degrees Fahrenheit internally.
Nutrition Per Serving:
Calories: 343, Total Fat: 22g, Carbs 13g, Protein, 28g