During the week my breakfast is predictable to a fault: oatmeal with a scoop of Vega protein powder, cinnamon, and peanut butter. But once Saturday rolls around, I'm ready to switch it up a bit, and recently all I've wanted to switch it up to is PANCAKES! This timeless classic is always a crowd pleaser, however, it is typically made with refined flours and topped with sugar-laden syrups! Not to mention it packs no fiber or protein, which are must-haves for breakfast. So I decided to take this dilemma upon myself to make a healthy, high fiber, high protein, low sugar, TASTY pancake! And what do you know… I think I achieved it…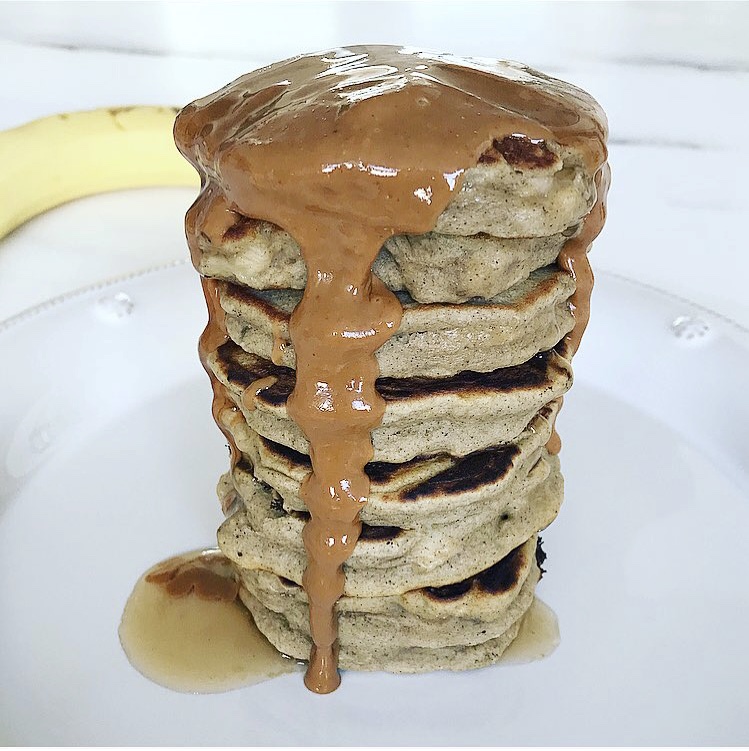 Using oat flour instead of all-purpose I was able to squeeze in whole grains and fiber. Replacing some of the flour with mashed banana helped to not only add more fiber and potassium but also helped to cut calories. Tossing in a scoop of protein powder amped up the protein, which helps keep me full all day long (or at least until lunch haha). Topping these with natural peanut butter means adding in healthy fats which helps to maintain satiety and get my monounsaturated fats in for the day. And using Walden Farms syrup helped me to keep calories and sugar low while still getting that maple taste!
Banana Oat Pancakes
Servings: 2
Ingredients:
2 ripe bananas
2 eggs
1/2 cup oat flour (can also blend rolled oats in blender until you achieve a fine consistency)
1 scoop protein powder of choice (I use Vega Protein and Greens– vanilla flavor)
1/2 teaspoon baking powder
pinch of salt
Optional:
maple syrup to serve (I used Walden Farms Pancake Syrup)
natural peanut butter to serve (I used Central Market peanut butter)
Directions:
In a blender or food processor, combine the peeled bananas, eggs, oats, protein powder, baking powder, and salt.
Blend until the mixture is smooth.
Heat a non-stick frying pan or lightly greased griddle over medium heat.
Pour or scoop the batter onto the griddle using approximately 1/4 cup scoop for each pancake.
Brown on both sides and serve hot with optional toppings of choice.
Nutrition (per serving- without toppings):
Calories: 375; Fat: 8g; Carbs: 52g; Protein: 22.5g; Fiber: 6.5g