I love Caesar dressing, but to be honest I rarely eat it. Not only is it loaded with saturated fats and calories, but the meals it comes on aren't typically very nutrient-dense (think: romaine lettuce and croutons). When I stumbled across this recipe, I was skeptical but excited. Easy, low calorie, AND tasty? Seemed too good to be true.
I love that this recipe not only skimps on high-calorie ingredients like mayonnaise, but it also packs in an extra protein and calcium punch but substituting in Greek yogurt. And because I can cook this chicken in the crockpot, the whole thing took me about 10 minutes of actual work (obviously cook time was longer to allow for time in the crock pot).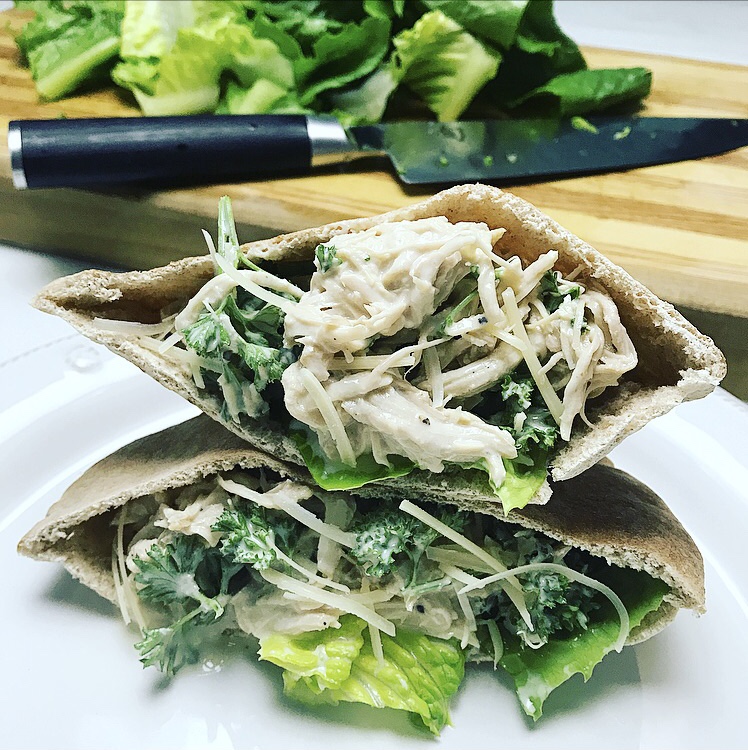 Crock Pot Chicken Caesar Pita
Prep Time: 10 minutes
Cook Time: 4-6 hours (dependent on crockpot temperature)
Servings: 5
Ingredients:
Chicken:
1 ½ pounds boneless, skinless chicken breasts
2 tablespoons water
½ teaspoon salt
½ teaspoon garlic powder
1/8 teaspoon black pepper
Dressing:
2 5.3-ounce containers nonfat plain Greek yogurt (or about 1 ¼ cups)
½ cup Parmesan cheese
2 tablespoons fresh lemon juice
1 ½ tablespoons Dijon mustard
1 tablespoon apple cider vinegar
1 tablespoon reduced-sodium soy sauce
½ teaspoon garlic powder
½ teaspoon salt
Dash of black pepper
For Serving:
1/3 cup chopped fresh flat leaf (Italian) parsley
¼ cup shredded Parmesan cheese
Whole wheat pita pockets (can also use whole wheat bread or buns)
Romaine lettuce, chopped
Additional Parmesan cheese, if desired
Directions:
1. Place chicken in slow cooker and add water.
2. Sprinkle ½ teaspoon salt, ½ teaspoon garlic powder, and ⅛ teaspoon black pepper on chicken.
3. Cook for 4-5 hours on high or 5-6 hours on low. Chicken should be thoroughly cooked but still moist and tender.
4. In a separate large bowl, stir together Greek yogurt, ½ cup Parmesan cheese, lemon juice, Dijon mustard, vinegar, soy sauce, ½ teaspoon garlic powder, ½ teaspoon salt, and dash of pepper. Mix until all ingredients are thoroughly combined. (Dressing can be made ahead of time and covered and refrigerated until needed.)
5. Once the chicken has cooked fully, shred using two forks. Transfer chicken into the large bowl with reserved Caesar dressing. Mix well.
6. Immediately before serving, stir in fresh parsley and remaining ¼ cup Parmesan cheese.
7. Serve in whole wheat pita pockets with Romaine lettuce and garnish with additional Parmesan cheese, if desired.