Is it just me, or is deciding what to eat for dinner getting harder and harder? I LOVE to cook, but for some reason I'm in a funk. Maybe it's my version of writers block…? Anywho, this recipe was bomb. It required almost no prep, especially since I used pre-riced cauliflower and canned beans and corn. The hardest part was waiting to eat it while it cooked (and we all know that is HARD BUSINESS).
This dish has it all: fiber (beans, cauliflower, onion), protein (beans, ground beef), and healthy fats (avocado). I love topping it with Greek yogurt in place of high saturated fat sour cream. Plus the best part is that we had leftovers, which means no cooking several days in a row!
I found a version of this recipe on delish.com and made my own variations and changes. Try it out and let me know what you think!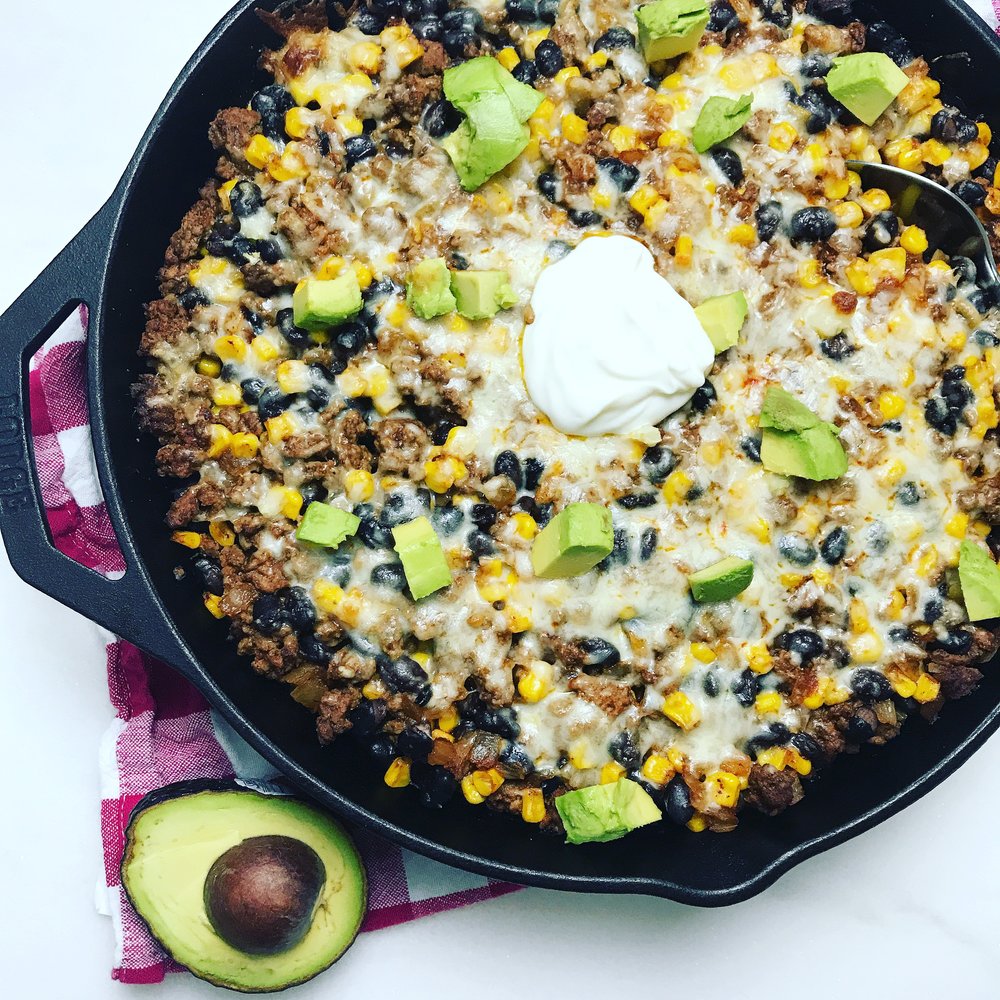 Cauli Tamale Pie
Servings: 5
Prep Time: 15 minutes (Total Time 1:15)
Ingredients:
5 c. riced cauliflower (I used 2, 12 oz bags of frozen riced cauliflower)
2 c. shredded Mexican cheese, divided
1 egg
1/2 tsp. dried oregano
Salt, to taste
Freshly ground black pepper, to taste
1 tbsp. extra-virgin olive oil, plus more for pan
1/2 onion, chopped
2 cloves garlic, minced
3/4 lb. 90/10 lean ground beef
1 tsp. chili powder
1/2 tsp. ground cumin
1 1/4 c. red enchilada sauce
1 15 oz can black beans, rinsed and drained
1 15 oz can corn, rinsed and drained
Plain Greek yogurt, for serving
1 large avocado, for serving
Directions:
Preheat oven to 425°. In a large microwave-safe bowl, microwave cauliflower covered and vented until softened, about 4 minutes.
Add 1 cup shredded cheese, egg, and dried oregano to the cooked cauliflower. Season with salt and pepper and mix until combined.
Grease an ovenproof 10" skillet (I used a cast iron skillet) with olive oil, then press the cauliflower mixture into skillet. Bake until golden and dried out, about 20 minutes.
Meanwhile, in a large skillet over medium heat, heat olive oil. Add onion and cook until softened, about 5 minutes. Stir in garlic and cook until fragrant, about 1 minute. Add ground beef and cook, stirring often, until the beef is cooked through, about 6 minutes. Add chili powder, ground cumin, enchilada sauce, black beans and corn and bring mixture to a simmer. Season with salt and pepper, then turn off heat.
Spread mixture over baked cauliflower crust then top with remaining cheese. Bake until the cheese has melted and the crust is crispy, about 15 minutes more.
Garnish with avocado and Greek yogurt (as sour cream) and serve warm.