I went through a phase where I legit ate an English muffin with peanut butter for breakfast EVERY DAY. This may sound crazy, but if you follow me at all you know that I still eat the same breakfast every day, just no longer English muffins (I've moved onto more sophisticated things like oatmeal). But I continue to eat a ton of English muffins. My favorite way is with a over-easy fried egg, avocado, and turkey bacon smashed into the center of it. That way I'm getting my fiber (I obviously only eat whole wheat English muffins), protein, and healthy fats all in one drippy, wonderful sandwich.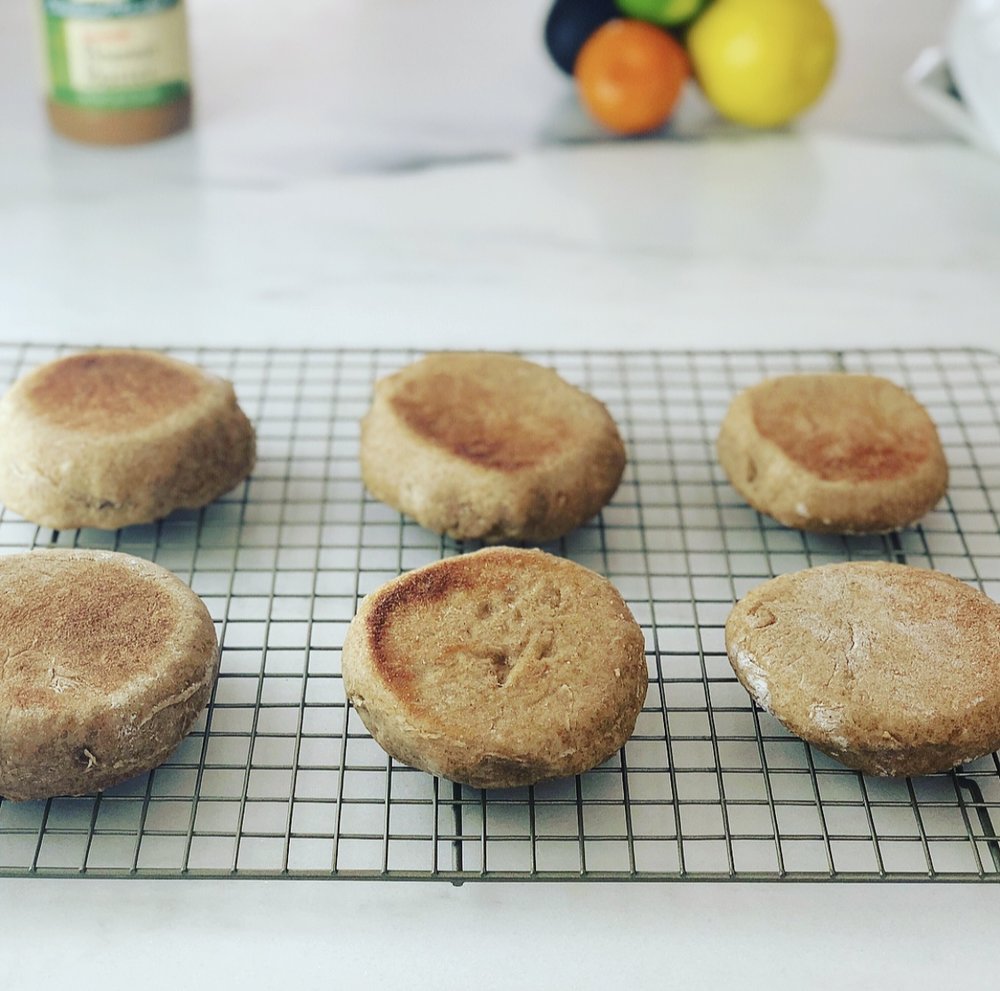 I found this recipe on recipetips.com and made my own dietitian friendly tweaks to it. It was seriously easy to make (I'm no chef guys, come on), so don't let the 2 hour prep time intimidate you. Most of that is just time for the dough to rise. The tip at the bottom (that I also got from recipetips.com) was a game changer for me. What a great idea?!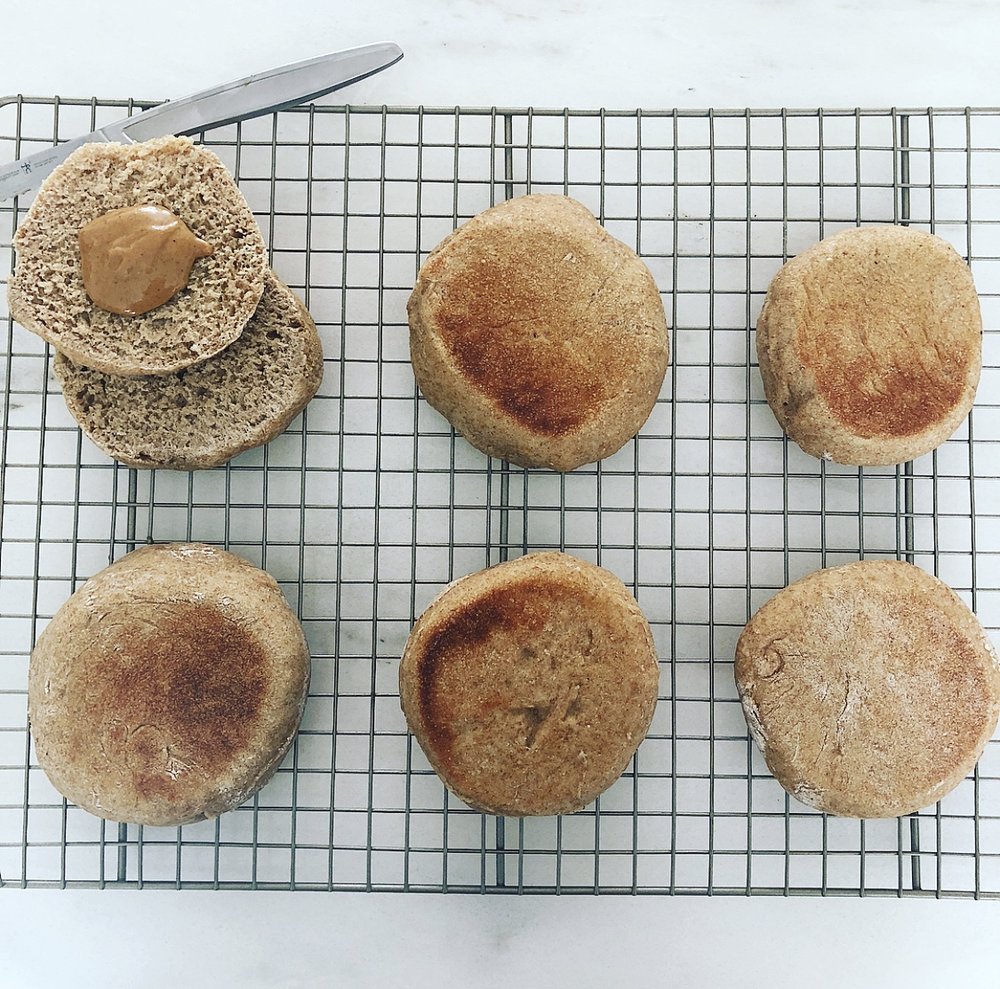 I've also been known to grab one of these puppies for dessert and throw some nut butter or honey on there. If you make them, let me know how you use them!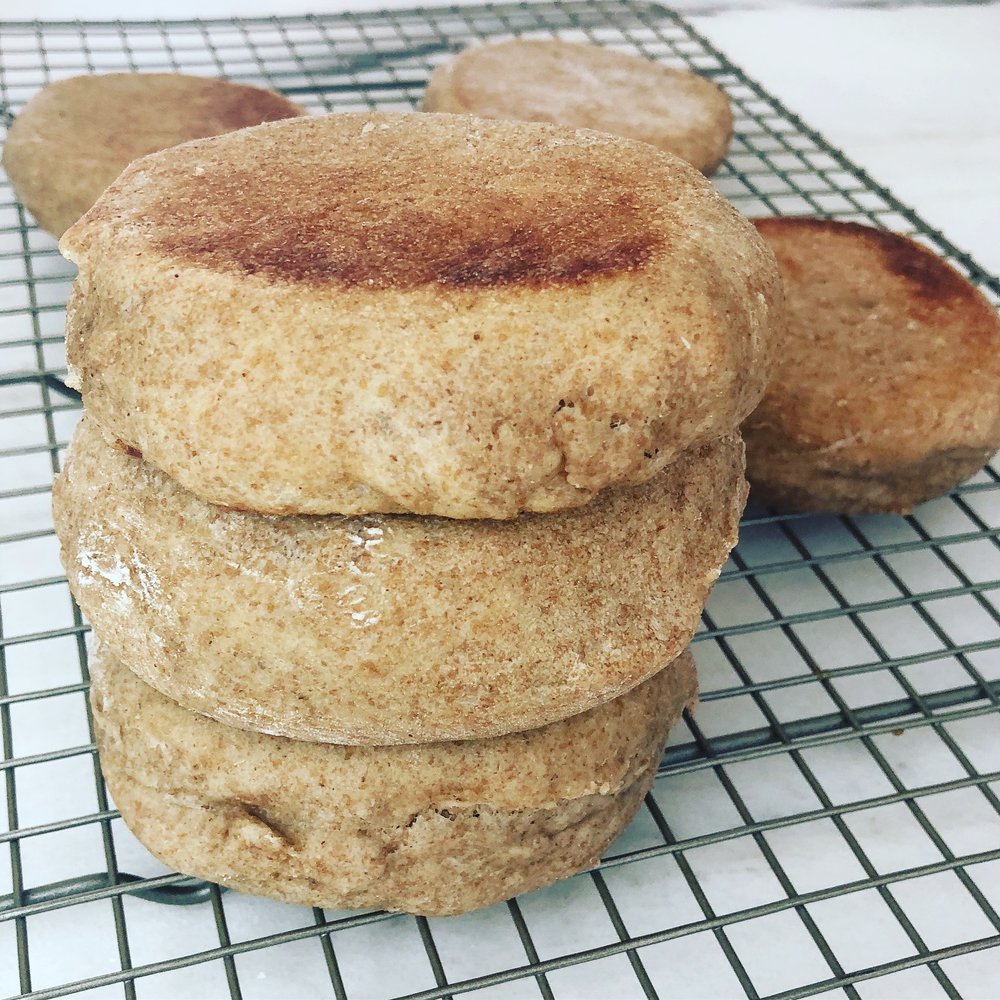 Whole Wheat English Muffins
Yield: 8
Prep Time: 2 hours
Cook Time: 15 minutes
Ingredients:
1/4 cup warm water
1 package dry yeast (or 1 tablespoon)
2 cups whole wheat flour, plus more as needed
1 cup white flour (can use all whole wheat- muffins will be denser)
1 teaspoon salt
1 cup skim or unsweetened almond milk
3 tablespoons Canola oil
1 Tablespoon honey or sugar
1 egg
cornmeal as needed
Directions:
Pour yeast over warm (about 105° F) water and let stand until foamy, about 10 minutes.
In a large bowl, mix flour(s) and salt.
In a separate bowl, mix milk, oil and honey. Add egg and mix until blended. Stir in the yeast mixture.
Add the liquid mixture into the dry mixture and stir until well blended. Can use a stand mixer or by hand. Dough will be soft and slightly sticky.
Turn dough out onto floured work surface and knead for 3-5 minutes. If dough is too sticky to knead, add flour a tablespoon at a time.
Place dough in an oiled bowl, cover with plastic wrap or a damp towel, and let rise in a warm place (see TIP) until doubled in size, about 1 hour.
Turn risen dough out onto a work surface that has been liberally dusted with cornmeal. Pat or roll to about 1/2″ thick. Cut into approximately 3 inch rounds using a cookie cutter, tin can, or jar lid. Combine the scraps of dough into more muffins, handling as little as possible.
Cover the muffins with a towel and let rise for 20-30 minutes.
Heat a griddle or large skillet over medium-low heat. Sprinkle with corn meal. Using a spatula, transfer muffins to hot griddle. Cook about 5 minutes on each side, turn and cook for 2-3 minutes per side. Outsides should be golden brown and insides should be soft.
Remove and place onto cooling rack as they finish cooking. Cook the rest in batches.
Enjoy straight off of the skillet or split in half and toast before serving.
TIP: To create a warm place for rising dough, microwave a glass of water for 2 minutes then put the bowl of dough into the microwave with the hot water. Heat from the water will provide an appropriate temperature and the dough does not need to be covered since it will not dry on the surface in this humid environment.