You guys know I'm all about easy. And healthy. And GOOD. And this dish achieves it all. My goal is to make this a one-pot dish (if you figure out a good way to cook the noodles into the soup, let me know!), but I'd say two pot isn't bad. Plus using this simple curry flavor with the paste and the simple protein with the rotisserie chicken, you really can't beat this.
You could easily swap chicken for shrimp or tofu. You could also swap red curry paste for yellow for a milder flavor. The one thing you CANNOT swap is the full-fat coconut milk. I'm telling you guys. I've played around with it a million times and it's sadly just not as good! This still ends up being a super low calorie soup, so don't stress my little monkeys.
Got this recipe inspo from @TheColorfulKitchen and modified it to my liking (and ease).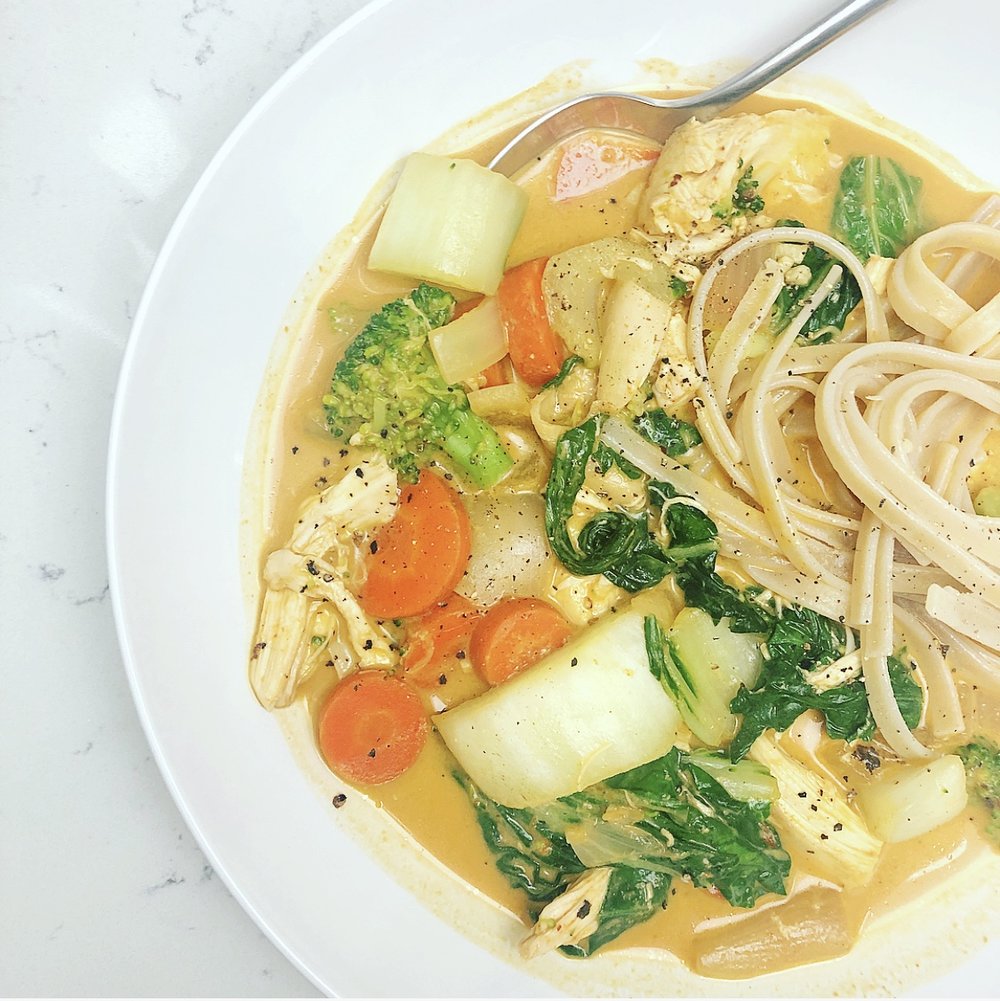 Coconut Curry Chicken Soup
Ingredients
4 portions of brown rice noodles

1 tablespoon olive or coconut oil

1 medium yellow onion, sliced

3 cloves garlic, minced

1 tablespoon minced ginger

1 (13.5 oz) can full-fat coconut milk

2 cups vegetable broth

2 tablespoons red curry paste

2 large carrots, sliced into thin rounds

2 bunches baby bok choy

2 cups broccoli florets

1 rotisserie chicken, shredded

tamari or soy sauce to taste

salt and pepper to taste

red pepper flakes to taste
Instructions
Prepare the noodles according to instructions on package.

In a large pot, heat the oil at medium-high. Add the onion, garlic and ginger and sauté until the onions are translucent (about 4-6 minutes).

Add the coconut milk, vegetable broth, and curry paste and bring to a boil.

Add the carrots and simmer for 4 minutes. Add broccoli, and simmer another 3 minutes. Add the bok choy and chicken, and simmer for another 2 minutes.

Season with the tamari/soy sauce, salt, pepper, and red pepper flakes to taste.

Transfer to four bowls, add a serving of noodles to each bowl, and enjoy!