This is hands down one of my new favorite dishes. I have to admit, it did get a few more pots dirty than I typically would like (my goal is always zero lol), but it's 100% worth it! Don't stress if you don't have an Instant Pot. The spaghetti squash can easily be cooked in either the microwave or the oven. But if you do have an Instant Pot, I HIGHLY recommend it. It is so quick and easy and the skin just fell off.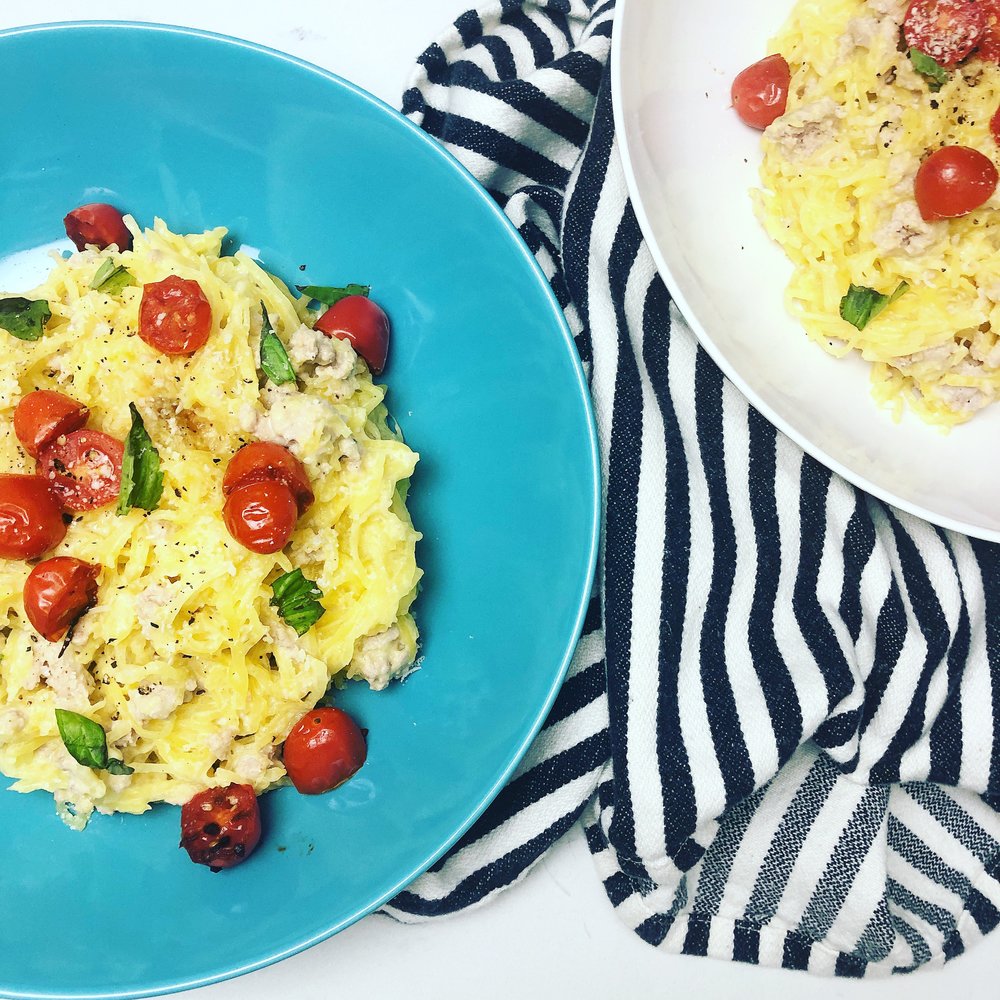 Spaghetti Squash Alfredo
Ingredients:
1 whole small spaghetti squash*
1 cup water
1 lb lean ground turkey, cooked**
2 tsp olive oil
8 Tbs whipped original cream cheese
1/2 cup low sodium chicken broth
1/2 cup milk of choice (I used skim, but unsweetened almond works great too)
1/4 cup grated parmesan cheese
Salt, pepper, and garlic powder to taste
1/2 cup cherry tomatoes, halved
1/4 cup fresh basil, chopped
Directions:
Pierce the squash all over with a paring knife, making about 6 (1/2-inch) vents for the steam to penetrate the squash's skin.
Place the steamer insert into your Instant Pot and add the water.
Add the squash to the insert. Seal the pressure cooker and cook on high pressure for 15 minutes.
Use instant release to release the cooker's pressure and remove the squash.
While letting the squash cool, heat a medium sauce pan over low to medium heat and coat with 1 teaspoon of oil.
Add cream cheese and stir as it melts. Once melted, add chicken broth and milk and continue stirring to combine.
Next, add parmesan cheese and stir until well incorporated. Season with salt, pepper, and garlic powder. Bring mixture to a simmer for 3 minutes while continuing to stir. Reduce heat to low.
Halve the squash lengthwise. Remove the seeds from the middle and shred the remaining squash using a fork. Save the skin for serving if you desire.
Heat another medium skillet over medium heat and coat with 1 teaspoon olive oil. Add tomatoes and allow to cook for 2 minutes. Add spaghetti squash to the tomatoes and toss to combine. Add turkey and stir to combine.
Pour Alfredo sauce mixture over the spaghetti squash and mix to coat.
Serve in squash skins or bowls as desired. Garnish with fresh basil.
*If using a larger spaghetti squash, I recommend doubling the sauce recipe. I made this mistake and had to go back and make more!
**Can easily leave out turkey if desiring a meatless dish.