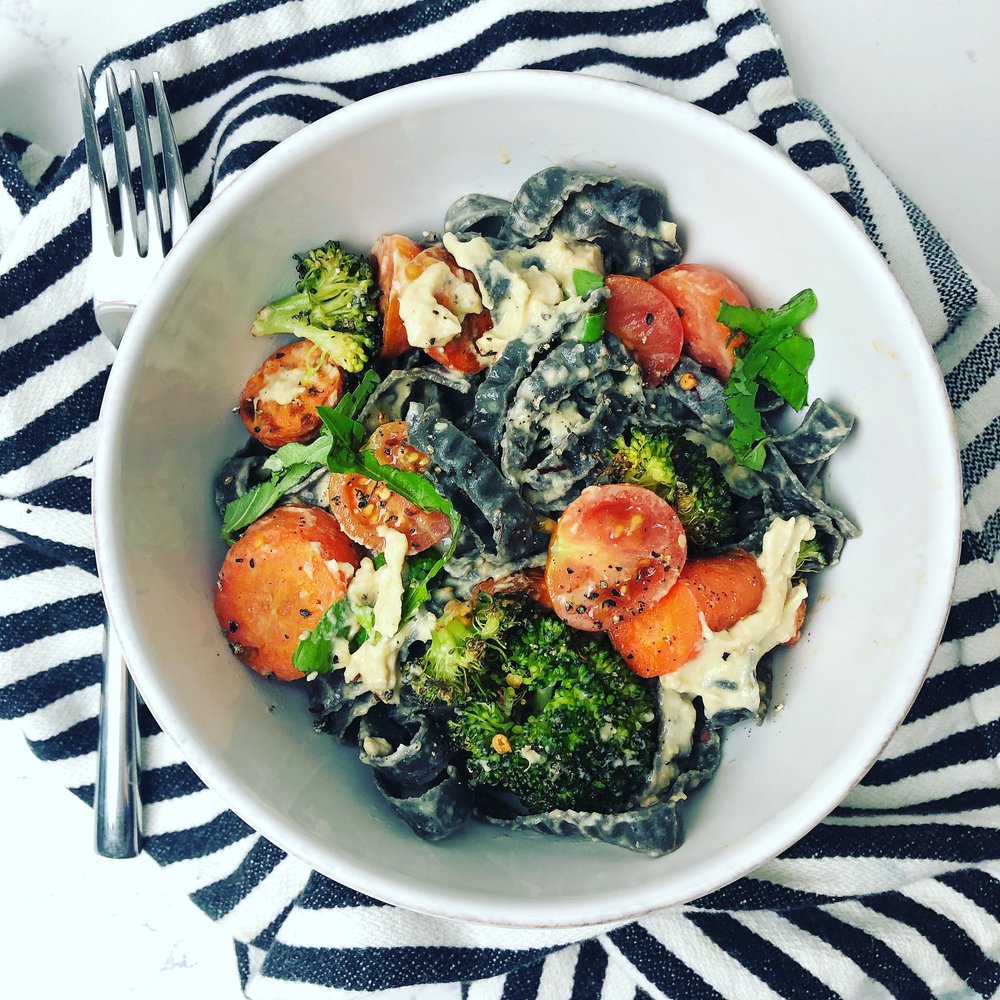 Spicy Pasta Salad
Ingredients
Pasta:
1 bag pasta of your choice. I used The Only Bean Organic Black Bean Spaghetti Pasta, but anything works!

1 pint of cherry or grape tomatoes, sliced in half

2 tbsp extra virgin olive oil

pinch of sea salt

pinch of ground black pepper

1 cup of broccoli, cut into florets

1 cup of carrots, chopped

red pepper flakes (optional)

fresh basil, chopped (optional)
Dressing:
8 tbsp of hummus for every 4 bowls of the pasta (2 tbsp per bowl). I used Hope Hummus Original Recipe, which I swear by!

1 tbsp of Tabasco or Frank's Red Hot Sauce. I used Frank's.
Instructions
Preheat oven to 400F.

Follow cooking instructions on pasta.

While the pasta boils, toss broccoli and carrots in olive oil, sea salt and pepper. Place on a baking sheet and bake in pre-heated oven for 15-20 minutes, tossing them half way through. If you'd like, you can roast the tomatoes there, too (I did not).

In a small bowl, mix dressing ingredients.

Drain the pasta and transfer to a large bowl. Allow it to cool down. Stir in dressing and toss well to coat evenly.

Mix in cooked and raw veggies. Toss again and refrigerate prior to serving. Before serving, season with salt, pepper, red pepper flakes, and basil as desired.
.