Remember those "Real Men of Genius" commercials that Bud Light used to put out? What ever happened to those?! I loved those! I remember one in particular which made fun of taco salads. "A 12,000 calorie salad" they said. This isn't far from the truth! (If you have't seen this, please watch it now. You're welcome for the song being stuck in your head for days).
"Real Men of Genius- Mr. Giant Taco Salad Inventor"
Taco salads are usually filled with cheese, beans, avocado, high fat meat, sour cream, and mayyyyybe some lettuce, all wrapped up in a deep fried bowl. And let's slap the name salad to the end to make ourselves feel better, right?
Well my taco friends, this salad is different. I ditched the high fat, low fiber ingredients for beautiful, filling, lean ingredients. But the one thing I left in? Taste of course! Salsa and lime juice serves as the dressing for this dish. I love salsa as a salad dressing. Unlike other dressings, it has almost no sugar or fat, but it definitely packs the flavor! I also used Good Thins corn crackers in place of a fried bowl or tortilla chips for this salad. I love these crackers because they use very simple, "clean" ingredients but taste great, and are also SUPER low in calories.
So there you have it: a salad with protein, healthy fat, and high fiber carbs.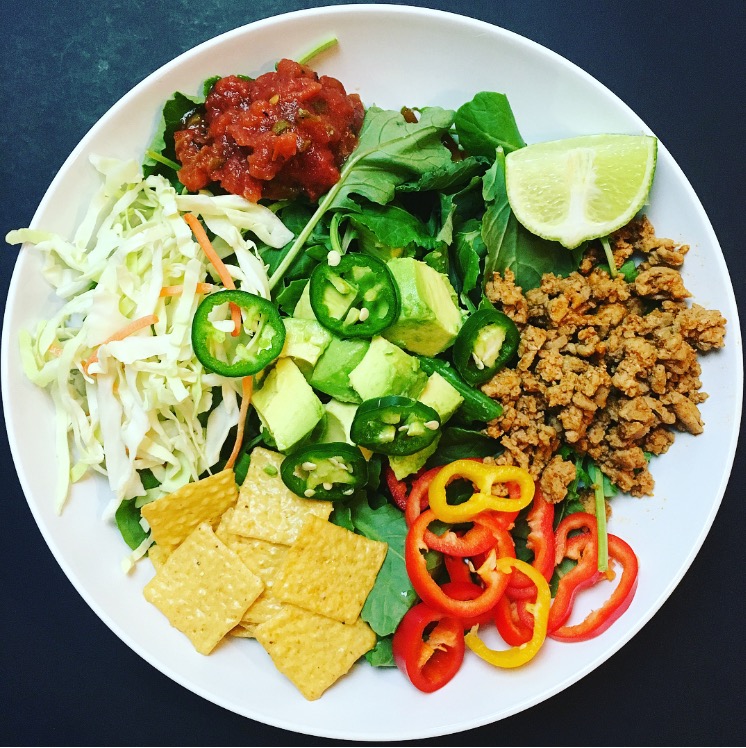 Healthy Taco Salad
Ingredients:
1 pound lean ground beef
1 (1.25 oz) package low sodium taco seasoning
4 cups loosely packed kale, chopped
1 cup cabbage, shredded (I used a coleslaw mix)
1 cup corn crackers of choice (I used Good Thins)
1 package mini bell peppers, chopped (about 1.5 cups total)
1 small jalapeno, sliced
1 large avocado, diced
1 cup salsa
1 lime, cut into 4 wedges
Directions:
Cook beef on medium- high in skillet until cooked through. Add taco seasoning and water per instructions on seasoning. Set aside.
In four bowls, divide kale, cabbage, crackers, bell peppers, jalapeno, avocado, salsa, and lime wedges evenly.
Top each bowl with an even amount of seasoned beef.
Mix and enjoy.