Well, I have some crazy news. WE ARE MOVING TO HOUSTON! Yep, I will officially be a Texan again. It's a very bittersweet time for us. We absolutely love Denver and the adventures it brought us, but we will both always be Texans at heart. In honor of this move, I obviously have to celebrate getting back into the land of Tex Mex. And what better way to celebrate that than with a healthy tostada?
So what is a tostada, you ask? Tostada is a Spanish word meaning "toasted." (See, Spanish isn't that hard haha). Typically a corn or flour tortilla is toasted and used as the base of this dish. I decided that I wanted to use my fave tortillas (Flatout) for my healthy tostada. And Flatout now makes their crispy pizza crusts, which I knew would add just the perfect hint of crunch to this dish.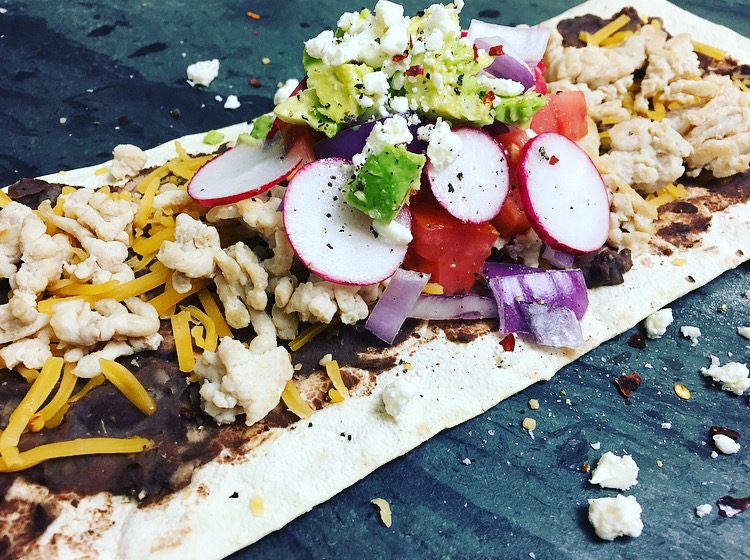 In other exciting Flatout news, Flatout Flatbread is now endorsed by Weight Watchers! If you read my blog at all, you know I'm obsessed with the stuff. Flatout Flatbreads are BIG on flavor with no added sugar while also being a terrific source of protein and fiber, making them a great choice for those looking for healthier flatbread options. On the Weight Watchers Beyond the Scale program, members can enjoy Flatout Flatbreads for 2 to 4 SmartPoints value each.
All Flatout Light flatbreads have 2 to 3 SmartPoints value per flatbread.
All Flatout ProteinUp CarbDown flatbreads have 3 SmartPoints value (not to mention 12 grams of protein!) per flatbread.
All Flatout Artisan Thin Pizza Crust have 4 SmartPoints value per flatbread.

Whether you're working on portion control, creating new appetizers or feeding a family of six, all Flatout Flatbeads are a simple solution to creating quick, easy and tasty meals. And you don't have to deprive yourself of the foods you love if you're working to lose or manage your weight.
Flatout Flatbreads are in the deli/bakery section of most major grocery stores, if you can't find them, just ask or visit FlatoutFinder.com to find a store near you.
 
Flat Out Healthy Tostada
Time: 20 minutes
Servings: 6
Ingredients:
1 pound lean ground turkey
1 15 ounce can fat free refried beans
1 package Flat Out Artisan Thin Pizza Crust
1 small bunch radishes, sliced thin
1 large avocado, diced
1 red onion, diced
2 roma tomatoes, diced
1 cup 2% shredded cheddar cheese
Feta cheese, salt, pepper, and red pepper flakes to taste
Directions:
1. Preheat oven to 350 F.
2. In a large greased skillet, cook turkey over medium high heat until cooked through and the meat is no longer pink.
3. Spread beans over each Flat Out, then sprinkle with turkey. Bake for 5 minutes.
4. Remove from oven and top with remaining ingredients evenly among all 6 Flat Outs.