Skinnytaste for the win again (www.skinnytaste.com)! Gina, you are a genius. We have some friends that we love to have dinner nights with, and were searching the internet for fun, healthy recipes (people feel the need to be healthy when they have dietitians over for dinner- pressures on folks!). We came across this one and decided to give it a try. It was a crowd pleaser to say the least!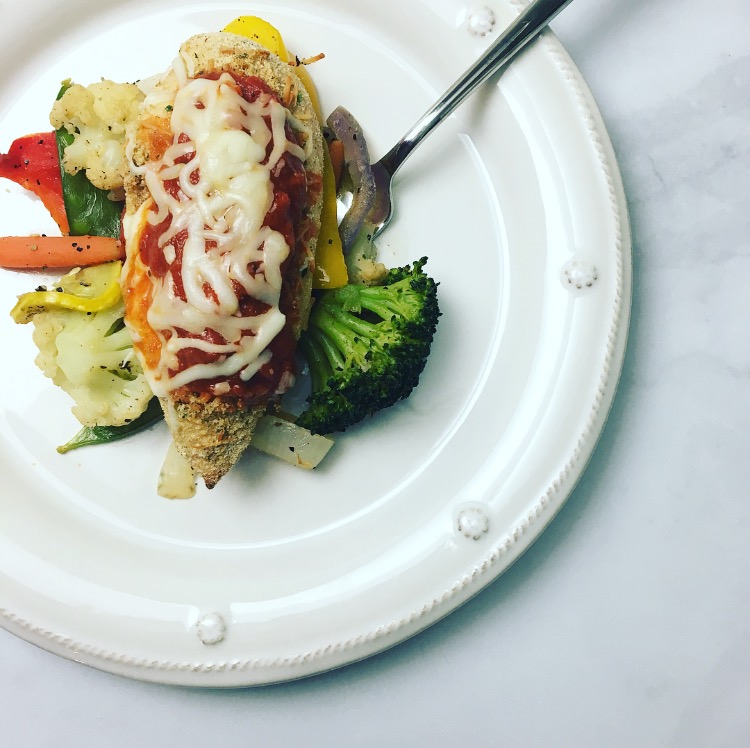 I love chicken parmesan, but it is typically fried. This dish is baked (not fried) with minimal added fats so that you get the taste and protein of your typical chicken parm without the added calories and fat! Instead of pasta, I threw mine on top of roasted veggies. Enjoy!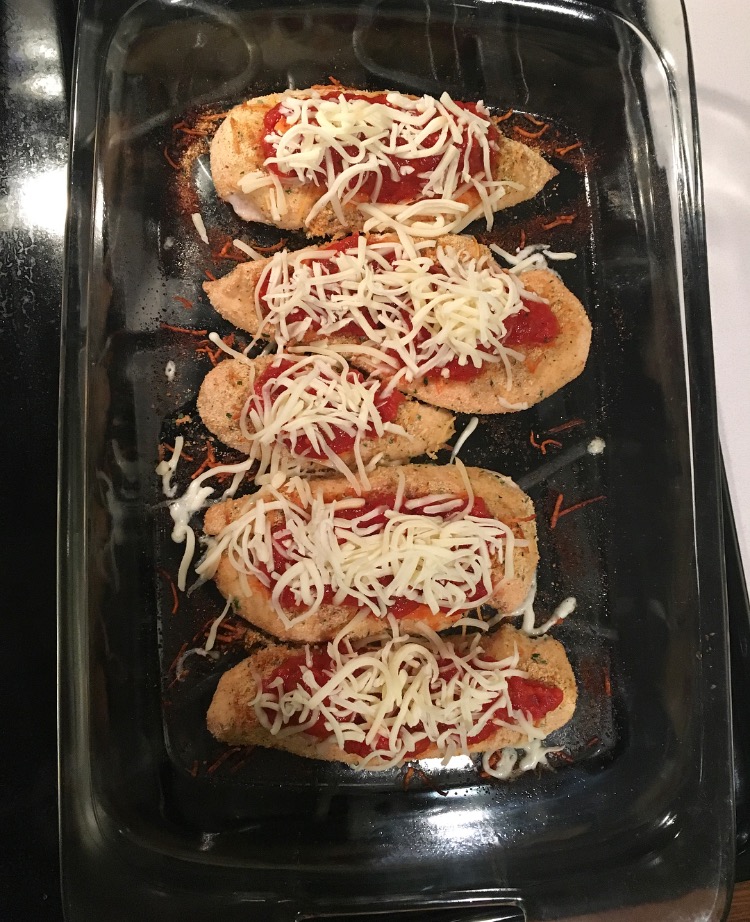 BAKED CHICKEN PARMESAN
Yield: 8 servings
Serving Size: 1 piece
INGREDIENTS:
4 (about 8 oz each) chicken breast, fat trimmed, sliced in half to make 8
3/4 cup seasoned breadcrumbs (I used whole wheat- can use Gluten Free)
1/4 cup grated Parmesan cheese
2 tbsp olive oil
3/4 cup reduced fat mozzarella cheese
1 cup low-sugar marinara
Cooking spray
DIRECTIONS:
1. Preheat oven to 450°. Spray a large baking sheet lightly with spray.
2. Combine breadcrumbs and parmesan cheese in a bowl. Lightly brush the oil onto the chicken, then dip into breadcrumb mixture. Place on baking sheet and repeat with the remaining chicken.
3. Lightly spray a little more oil on top and bake in the oven for 25 minutes.
4. Remove from oven, spoon 1 tbsp sauce over each piece of chicken and top each with 1 1/2 tbsp of shredded mozzarella cheese.
5. Bake 5 more minutes or until cheese is melted.