We are mid-move from Houston, TX to Denver, CO. It has been FREAKING hot in Houston, and I came to Denver for the weekend to house hunt. I was expecting it to be way cooler here but, turns out, it's NOT. So nothing sounded better than a tasty cold zoodle bowl. Found this recipe on Inspiralized and put my own twist to it.
I love that this dish uses Greek yogurt instead of sour cream in the sauce. Promise you'll never taste the difference but you should love the lowered saturated fat and calories! I also love that the zoodles beef up the fiber while lowering the carbs and calories. And of course it's topped with avocado because, why not??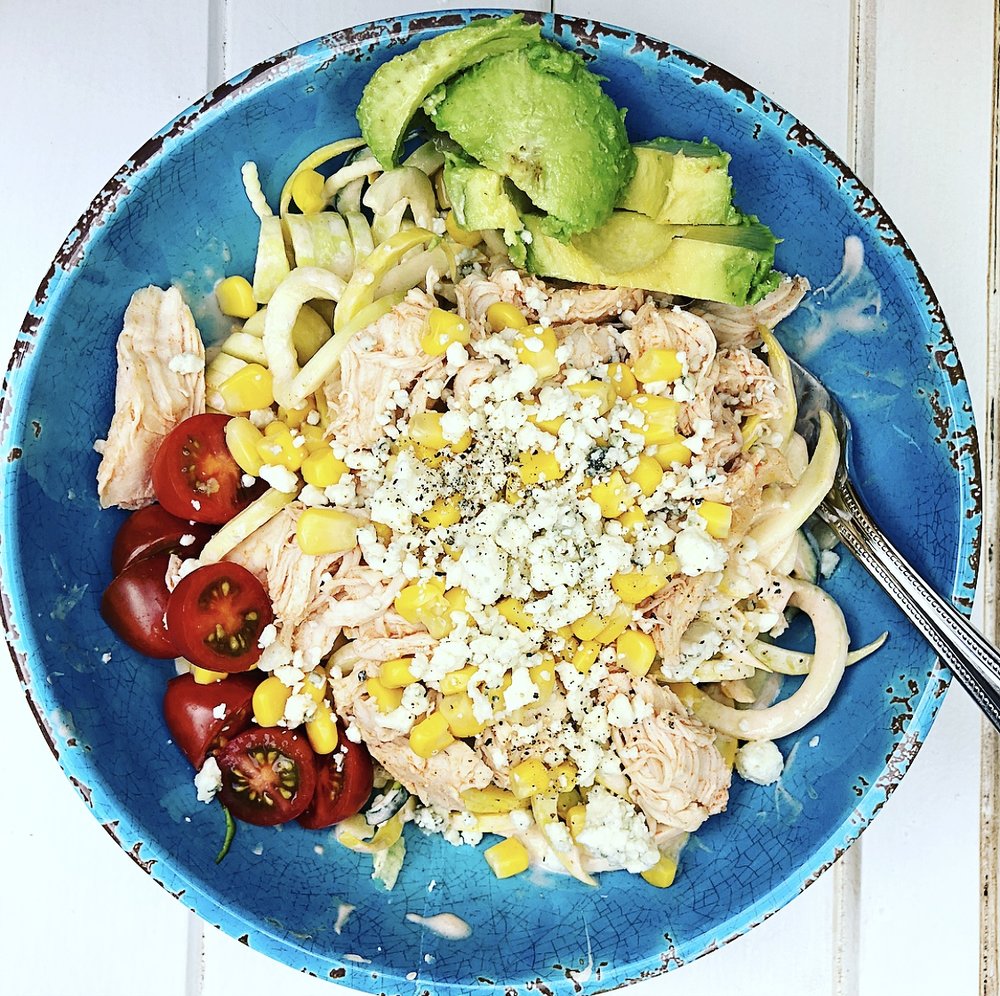 Buffalo Chicken Zoodle Bowls
Servings: 4
Prep Time: 15 minutes
Cook Time: 1-7 hours (depending on heat of crock pot)
Ingredients:
For the chicken:
2 boneless skinless chicken breasts
1/4 cup hot sauce (I used Franks Red Hot Sauce)
salt
For the sauce:
6oz nonfat plain Greek yogurt
5 tablespoons hot sauce
¼ teaspoon garlic powder
1 tablespoon apple cider vinegar
salt and pepper
For the salad:
2 large zucchini, spiralized, noodles trimmed (I used Blade D)
1 large squash, spiralized, noodles trimmed (I used Blade D)
½ cup halved cherry tomatoes
¼ cup crumbled blue cheese
1/2 cup canned corn, drained and rinsed
1 large avocado, sliced
Directions:
Place the chicken in a crock pot and cover with 1/4 cup hot sauce and a pinch of salt. Cover and cook for 6-7 hours on low or 1-2 hours on high. Shred once fully cooked.
While chicken cooks, place the Greek yogurt, 5 Tablespoons hot sauce, garlic powder, apple cider vinegar, salt, and pepper in a medium mixing bowl and stir to combine. Add the shredded chicken and zucchini noodles and toss well to combine.
Divide the salad onto four plates and top each with cherry tomatoes, blue cheese, corn, and avocado. Serve.